Microsoft Windows 7
Windows® 7: Evolved for the modern enterprise
Windows® 7 Enterprise is the most advanced Windows operating system for business PCs, designed to meet the evolving needs of the users and IT professionals in the organization—both in and out of the office. With exclusive features and benefits, Windows® 7 Enterprise drives lower total cost of ownership by helping users stay productive anywhere, enhancing security and control, and simplifying PC management across organization.
"Windows® 7 offers a unique opportunity for a much richer and more satisfying user experience across Avanquest Software's broad range of personal, family and business applications," said Roger Politis, CTO and Co-founder of Avanquest Software. "The UI innovations and enhancements in graphics and connectivity, as well as the platform's ability to allow for improvements in tech support delivery, will greatly facilitate our capacity to deliver faster and more efficiently to our customers the best-of-breed software they have come to expect from us."
Windows® 7 simplifies everyday tasks
Avanquest's media applications are designed to take full advantage of the exciting new capabilities and performance enhancements in Windows® 7. Avanquest's multi-touch applications will benefit from the power of Windows® 7 on next generation touch screen hardware, making PCs easier to use than ever before. Windows® 7 will ship on the widest variety of PC configurations, using the latest and most powerful technology, from the best PC manufacturers in the world.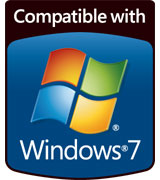 "Ready. Set. 7. " program
As a participant in Microsoft®'s "Ready. Set. 7." program, Avanquest makes available a large number of Windows® 7-compatible applications in its portfolio of software products for the global PC market, leveraging new features introduced in the newest Microsoft® OS that will enhance the PC user experience of Avanquest Software applications and solutions. Avanquest has already obtained Windows 7 compatible certifications for several products, the first to be certified are listed below. We will continue to add more products during the fourth-quarter of 2009 and into the first quarter of 2010. Our objective is that all the new product releases for a Windows platform will be Windows 7 compatible moving forward.