Checksoft Home & Business 14
Manage Your Finances with Check Writing Software
#1 Seller of Checkwriting Software
Save up to 80% on Check Paper
Works with the latest editions of Quicken and QuickBooks
1,000+ Background Images
100+ Check Templates
Print Business, Personal & Payroll Checks
100% Compliant with US Banks
Buy Download
60 Day Money Back Guarantee
Secure Online Ordering.
Our Systems are tested daily by McAfee and secured by SSL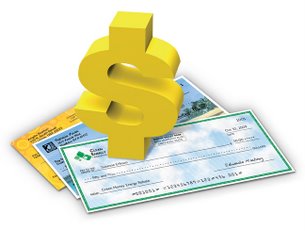 Why Checksoft? Save 80% on Check Paper!*
Are you tired of running out of checks, paying too much for replenishment checks from your bank or enduring the downtime it takes for the bank to send the checks to you? Ease your frustration with easy-to-use check design tools. Checksoft Home & Business helps you easily create and print personal and business checks for multiple accounts, saves you up to 80% on check paper costs, and manages your finances from one place.

IMPROVED! User Interface makes Checksoft Home & Business easier and more intuitive to use than ever.

IMPROVED! Account Set up Wizard makes it easier to create and set up an account so you can start designing your checks instantly.

IMPROVED! Check Design Wizard – preview and select predesigned templates and insert or replace background images with ease.

IMPROVED! Check Design Tools - an enhanced interface and better design tools make it easier to customize your check design.

Compatible with the latest versions of QuickBooks® and Quicken®.

NEW! Live Update Technology ensures that you get the latest version of QuickBooks and Quicken compatibility free for one year.

NEW! Downloadable Version
Create & Print Custom Personal & Business Checks in 3 Easy Steps
Select It


Choose from 100+ check templates or create your own. Enter your account data then select the check design and paper.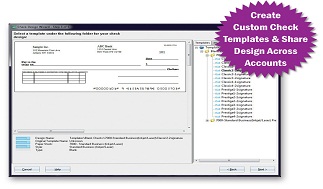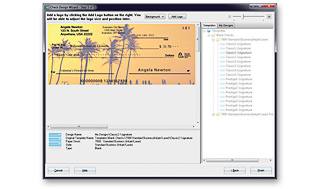 Design It
Powerful check designer lets you customize your check with more than
1,000+ colorful background images, logos,
and graphics.
Print It
Print completed checks in one quick step or print blank checks to fill out by hand. Works with
Quicken
®
and
QuickBooks
®
.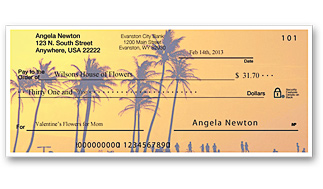 Top 5 Reasons to Create Your Own Checks
Save Money - Save up to 80% on check paper costs

Efficiency - Create and print checks for multiple accounts

Reduce Risk - Safeguard personal information

Checks on Demand - Never run out of checks

Financial Control - Manage your finances from one place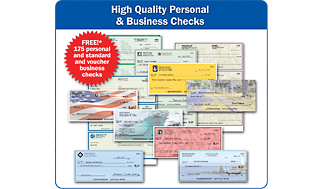 Easily Manage Your Business & Personal Finances
Set Up and Control Accounts
Set up checking, savings and credit card accounts
View balances, upcoming bills, outstanding checks and more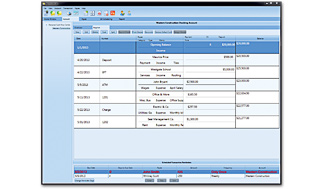 Account Register
Get started quickly. Checksoft works just like checkbook, making it easier to enter and edit transactions.       
Choose transaction by type, such as ATM, payment, and more
Categorize and sort your data to generate more detailed reports
Your ending balance is updated as each transaction is recorded
Reconcile Accounts
Download your bank data.
Reconciliation Wizard
makes it easy to reconcile your bank statement and track transactions. Cleared transactions are automatically calculated against your ending balance.
Schedule and Track Payments
Stay on top of your bills and payments by scheduling them ahead of time.
Bill Scheduler
reminds you when your bills are due and automatically records them for you.
Integrate with Your Financial Software
Easily print checks directly from
Quicken
®
,
QuickBooks
®
, and
Bookkeeper
software. Easily import product, contact, customer, and vendor data from your bank or existing financial software**.
Manage Contacts
Organize payees, vendors, and customers
Includes payee database so you only have to enter information once
Maintain a complete customer database.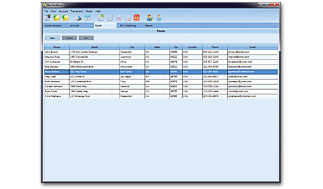 Create Financial Reports
Analyze your business with easy-to-read reports. Generate a wide variety of reports including
Payments
,
Checks Printed
,
Expenses
, and
much more
.
#1 Seller of Checkwriting Software*
Save Money – Save up to 80% on check paper costs
Easy-to-use –

just 5 minutes to learn the basics

Efficient – create and print checks for multiple accounts and mail with double window envelopes
Reduce risk –

safeguard personal and business information with password protection

Checks on demand –

never run out of checks

Compliant – 100% bank approved in the U.S.†
Integrates with your financial software – print checks directly from Quicken® , QuickBooks® and Bookkeeper
Financial Control –

manage finances from one place

Schedule and Track Payments and Bills –

explore ways to save money

Download bank data and reconcile accounts – easily reconcile your bank statement & track transactions​‡
Analyze your finances

with easy to read reports

90-day money back guarantee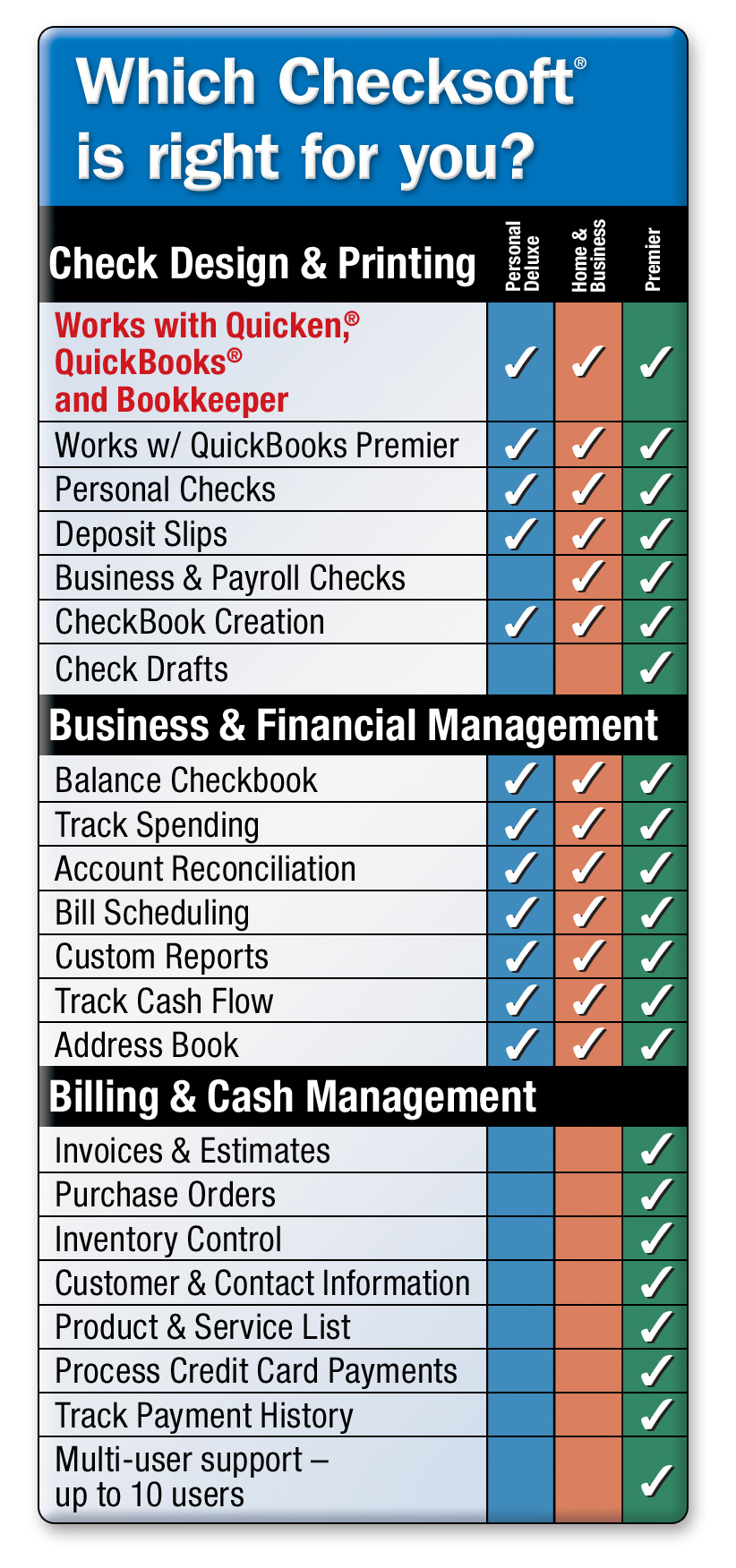 Checksoft Home & Business Works with:
Quicken® - Versions 2004-2015

QuickBooks®- Basic & Pro Editions 2004-2015, Premier Editions 2004-2015, Enterprise Solutions Editions 2008-2015
Bookkeeper - All versions
As later versions of the software programs are released, please check with Avanquest for the latest software updates.
Checksoft Compatible Checks:
Checks Business Pack
Checks Voucher Pack
Checks Personal Pack

| | |
| --- | --- |
| Platform | Windows XP, Windows Vista 32-bit, Windows 7, Windows 8, Windows 10 |
Pentium® III or higher
300 MB hard disk space
DVD-ROM Drive
Inkjet or laser printer
Internet connection required for certain features

*Checksoft, Quicken, QuickBooks and bank check paper costs are based on current suggested retail pricing for 900checks.
***NPD Group/NPD Techworld January 2007 - December 2012.
†A MICR toner cartridge is not required to print valid checks from this software. However, some financial institutions or retailers may require checks with MICR toner. If you have concerns, contact your financial institution and the retailers you patronize to inquire if MICR toner is required.  If you determine that MICR toner is required on your checks, please visit www.mysoftwareforms.com. 
††A QIF file format is required to import transaction data from Quicken, credit card companies or your bank.