InPixio Photo Clip Review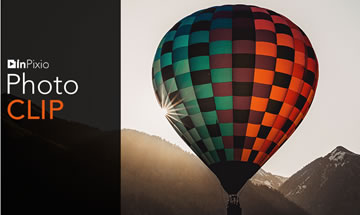 Photography done with smartphones is getting better and better. Some companies have put up oversized posters to show how good the photos are. The part they leave out is that those photos have been edited.
Even if you only take personal pictures with your smartphone, you need to edit them. In fact, you may want to take someone out of the picture or change the background. While phone editing apps are all right for quick edits on the phone screen, if you want a simple app that will work on your Mac or PC, you will need something like InPixio Photo Clip. This software can make your pictures look better, and it is easy to use.
What InPixio Photo Clip is supposed to do
The publisher, InPixio, says you can get a pro look with InPixio Photo Clip using your computer to edit. You can add effects, frames, and designs that give pictures a polished look. InPixio says you can not only change the size of photographs, but you can also change the focus. If your pictures are too dark or light, you can fix that too. You can change colors and adjust the brightness.
You need to know that the functionality described above depends on which version of the software you buy. Before we look in-depth at the features, let's see which version has what. Then we will see if the features measure up to their promises.
Versions
InPixio Photo Clip 8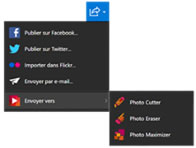 This version is primarily for getting rid of background details you don't want. You can also cut out your images and put them in a montage on any of several backgrounds that are included in the software.
You get a "Share" button that will publish your images to Twitter, Facebook, InstaCards, and Flickr.
InPixio Photo Clip 8 Professional
The pro version includes all the features of the previous version, but also comes with an editor to adjust the appearance of photos. You can add text with this version, and you get over 100 filters and special effects. You also will find more than 80 frames you can use for your pictures.
Notable Features
The Photo Eraser
The photo eraser function is designed to rescue photographs that have clutter and distractions. The interesting thing about InPixio's approach is you can get rid of background objects two ways:
You can let the software remove them automatically
You can "paint" part of the background to match another section of the photograph
This is one of the main reasons people want this software. When annoying people photo-bomb you, you'll have no more worries. And if you happen to catch an awkward moment off in the distance, you can get rid of it easily.
The Photo Cutter
This is an amazing feature. Instead of fixing the background, you can just cut out the parts of the image you want to keep. This can be handy for putting a picture of yourself on a plain white background. The "PhotoMontage" part of this feature will completely replace a background on your pictures.
The Photo Editor (Pro Version)
The features in the Photo Editor give you a lot of control over the look of your photos. You can make big changes, such as converting an image to Black and White, a "Vintage" look, or a Portrait appearance.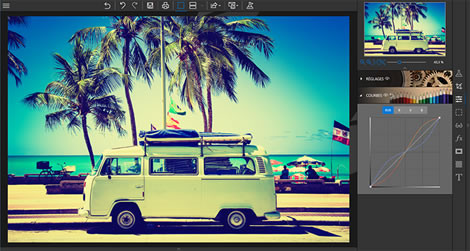 For finer adjustments, you can change the brightness, saturation, hue, and the balance of the colors. You can also add words and apply a variety of textures to your pictures.
You can play with the focus as well. You do this by selecting a portion of the photo you want to be sharp, and then make the rest of the picture a bit fuzzy. This will help you highlight any part of the picture.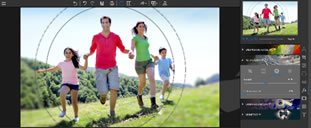 This is an impressive array of features, but it all comes down to the user interface. Can user understand how the interface works without having to study a manual?
The Interface
Whoever designed the interface must have really listened to what people want when using consumer software. It is very easy to understand and use, and it is quite possible to get started using this software without any instructions.
Here is what you see when you open the application.
You will see a "Welcome" screen with icons for each of the features we have discussed. If you hover the cursor over each of these icons, you will see an explanation of what each tool does.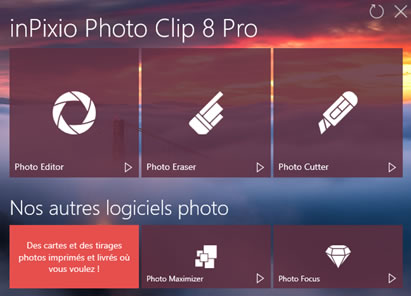 When you click on a tool, you will see icons on the right. Clicking any of these will get you into the task you want to perform. You will also see your files, and choices to open a new image, see a tutorial, or get help.
At this point, you will have basically seen all there is to see. Of course, using the tools will require practice, but they are very intuitive.
If you have ever tried to conquer Photoshop or GIMP, you know how confusing and complex photo editing software can be. The interface for InPixio Photo Clip is much simpler, and the operations you perform are much more intuitive.
The Bottom Line/The Final Verdict
When you need to touch up a bit, change some background images, and adjust the brightness of a picture, you don't need complicated, professional software that requires you to study, learn from mistakes, and call the help desk every five minutes. InPixio Photo Clip gives you professional-looking results with easy use.
A professional photographer could use this professional version, and no one would see any difference when compared to a photo that had been through much more complicated software. This can be especially useful for clients that want their images quickly.
InPixio sends updates for this tool regularly, so you can expect it to grow with you. As new features come on board, you will be able to do more and more with Photo Clip. It is fair to say this software will remain competitive for the foreseeable future. You should also know that you can upgrade your version to a higher and better version when it comes out. When more advanced versions are available, you can get their features with an upgrade fee instead of having to buy the new version outright.
You can get a free trial for Photo Clip, so all you will have to invest is a little time learning the ins and outs. The average person should be able to have a polished, professional-looking photograph within an hour of downloading the software.
So did the product live up to InPixio's promises? Yes. In fact, the publisher seems a bit conservative when describing what this product can do. Once you get used to the features, you can find creative ways to use them that go far beyond the barebones descriptions you find on the company's website.
There is just no downside to trying this software out.