Art Explosion 800,000
Best Selling Brand of Vector Clip Art Software on The Market
60 Day Money Back Guarantee
Secure Online Ordering.
Our Systems are tested daily by McAfee and secured by SSL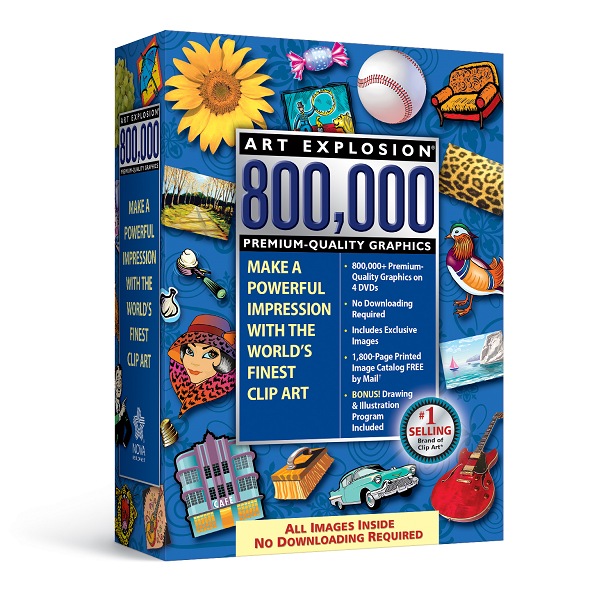 800,000+ Royalty-Free Images
4 DVD-ROMs
More than 80% Color Images
Includes More Than 350,000 Exclusive Graphics
For Windows XP, Vista®, 7, 8 and 10
Product currently unavailable
60 Day Money Back Guarantee
Secure Online Ordering.
Our Systems are tested daily by McAfee and secured by SSL

Art Explosion. It's the brand that computer users everywhere keep coming back to again and again. And for good reason. Art Explosion products are well known for unparalleled variety and the highest quality possible. And they offer the kind of truly stunning artwork that is missing entirely from other collections.

Art Explosion® 800,000 continues this tradition with exclusive vector illustrations, brand new photographs, professionally designed web graphics and more. It's the most complete Windows clip art package Nova has ever released.

Best of all, Art Explosion 800,000 requires no downloads and no memberships. What you see is what you get ... and what you get is all inside the box.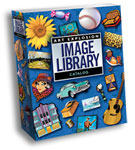 Guaranteed Quality!
All Premium-Quality Royalty-Free Images
More than 80% in Color
Nearly 200,000 of the Finest Scalable Vector Clip Art Images Available
Includes Hundreds of Categories and Subcategories
120,000 Color Photos and Backgrounds

Guaranteed Easy to Use!
32-bit Image Browser Software with Full Color Previews
Popular WMF, TIF, GIF, JPG File Formats
All Graphics Inside the Box - No Downloading or Memberships Required
Easy-to-Understand Full-Length File Names

Guaranteed Compatibility!
Compatible with Widest Range of Software
Edit Images in Any Graphics Program
Scale Most Images to Any Size
Compatible with All Printers, Color and B&W

Guaranteed Value!
Includes More Than 350,000 Exclusive Graphics
Use Any Image in Print Royalty-Free
Free Technical Support
Includes 1800 Fonts
DrawPlus 5 from Serif Included FREE

Widest Variety of Graphics Available
Vector Images
Raster Images
Photographs
Classic and Retro Images
Fine Art
Backgrounds
Technical Symbols
Web Graphics
Animations
Fonts
Much More!
Art Explosion 800,000 is the most complete graphics library you'll find anywhere. It's unparalleled in organization and quality. With hundreds of categories and subcategories, you'll always know exactly where to look for the perfect image.
Advertising

Classified Headings
Sales & Promos

Agriculture

Alphabets

Americana

Native Designs
State Nicknames
Symbols/History
The 50 States

Anatomy

Animals

Aquatic
Birds
Brushstroke
Cartoons
Dinosaurs
Domesticated
Farm Animals
Insects
Land Animals
Line Art
Silhouettes
Stylized

Antique Style

Animals
Household
Miscellaneous
People
General
Silhouettes
Plants & Flowers
Tools & Hardware
Toys & Games
Travel & Leisure

Architecture & Landmarks

United States
World/General

Arrows

Art & Design

Cave Art
Crafts
Fine Art
Supplies & Equipment

Backgrounds

Beauty

Borders

Banners
Corners
Design Elements
Frames
Horizontal
Vertical

Brush Strokes

Business & Office

Buildings
Cartoons
Documents
Equipment & Furniture
People
Supplies
Titles & Symbols

Buttons

Calendar

Birthstones & Flowers
Days
Months
Templates

Cartoons

Amoeba Man
Balloons
Body Language
Cave Critters
Human Beans
Make Your Own!
Offbeat

Clothing & Accessories

Advertising
Clothing & Fashion
Glasses
Hats
Jewelry & Such
Shoes & Socks

Computers

Cartoons
Keyboard Keys
Media
Miscellaneous
Network Diagramming
Converters &Switches
DSU/CSU
Flow Charting
IEC 417
Isometric
LAN - ATM
LAN - Bridges/Routers
LAN - Concentrators/Hubs
LAN - Internetworking
LAN - Miscellaneous
LAN - Storage
Mainframe
Miscellaneous
Muxes
Patching & Cabling
Servers
Work Stations & Midrange
Peripherals
Printers
Systems

Construction

Crests & Emblems

Animals
Birds
General
Human
Inanimate
Plants
Shields
Silhouettes
Templates

Education & Schools

Advertising
Books
Cartoons
Classroom & Activities
General
Graduation
School Subjects
School Supplies

Electrical

Electronics

Energy

Engineering

Chemical
Civil
Mechanical

Entertainment

Advertising
Circus & Carnival
Dance - Brushstroke
Dance - Images
Dining
Drama & Film
Drama - Shakespeare
Miscellaneous

Fantasy & Medieval

General
Symbols
Alchemy
Black Magic
Powers of Marduc
White Magic
Tolkein Scripts
Aglab
Certar
Tengwanda Gothic
Tengwanda Namarie

Fitness

Cartoons - General
Cartoons - Stretching
Equipment
Equipment & People
Silhouettes
Stretching & Exercise

Flags

Miscellaneous
Nautical Flags
United Kingdom
USA - Historical
USA - Navy Numerals
USA - State Flags
World

Food & Drink

Advertising & Titles
Breads & Cereals
Cartoons
Dairy
Desserts
Dinner Service
Drinks - Alcoholic
Drinks - Non-Alcoholic
Eggs
Fast Food
Fruits
Keylined
Meats
Seafood
Silhouettes
Veggies

Furniture

Gardening

Government

Business
Department Symbols
Executive Branch
General
Judicial Branch
Legislative Branch
State & Local

Graphs & Charts

Column Graphs
Flow Charts
Line Graphs
Miscellaneous
Organizational Charts

Hands

Hands Alone
Hands with Objects

Health & Medical

Cartoons
Dental
Equipment & Supplies
Medicines
Miscellaneous
Notations
Pregnancy & Birth
Professionals
Signs & Symbols
Titles

Holidays

Advertising - Christmas
Advertising - General
Christmas
Decorative Numbers
General
Gifts & Stockings
Holly & Mistletoe
Santa & Reindeer
Titles & Frames
Trees & Ornaments
Winter Holiday Fun
Easter
Father's Day
Halloween
Hanukkah
Independence Day
International
Kwanzaa
Mother's Day
New Years Day
Other
St. Patrick's Day
Thanksgiving
Valentine's Day
Veterans/Memorial Day

Household

Advertising
Bathroom
Bedroom
Cleaning
Cooling & Heating
Home Improvement
Kitchen
Laundry
Lighting
Locks & Keys
Miscellaneous
Painting
Workshop

Interior

International

Africa
Animals
Art & Design
Clothing & Accessories
Occupations
People & Cartoons
Tools & Instruments
Australia
Canada
Greece
Animals
Art & Design
People
Japan
General
Symbols & Characters
Miscellaneous
Musicians
People - Cartoons
People - Images
Symbols Alphabets
Aztec
Celtic Astrologer
Chinese Zodiac
Easter Island
Egyptian Hieroglyphics
Maya Day Names
Maya Month Glyphs
Meso Deko
Phaistos
Tribal Designs
Artifacts
Figures

Kids' Stuff

Baby Stuff
Drawings
Images
Toys

Landscapes

Maps

Australia
Canada
Cartoons
Continents/Regions
Countries
Globes/World
Miscellaneous Europe
Sweden
United Kingdom
USA - Cities
USA - Regions
USA - States

Measurement Systems

Military

Air Force
Army
Badges
Cartoons
General
Historical
Navy & Marines
Patches

Money

Cartoons
Coins & Currency
Miscellaneous
Symbols & Titles

Motivational

Music

Entertainment
Instruments
Musical Elements
Musicians
Titles & Frames

Occasions

Anniversaries
Birthdays
Births
Other
Parties
Weddings

Occupations

Oceanography

Outdoor Recreation

Barbeques & Picnics
Beach & Water
Camping
Cycling
Fishing
General
Hiking & Climbing
Hunting
Scuba
Silhouettes
Skating
Winter Activities

People

Brush Stroke
Caricatures
Cartoons
Faces - Cartoons
Faces - Images
Famous & Historical
General
Line Art
Silhouettes
Teenagers

Plants & Flowers

 

Police & Fire

Politics & Elections

Public Issues

Real Estate

Religion

Angel Cartoons
Biblical Scenes
Buddhism
Ceremonies & Prayer
Church Flyers
Churches
Confucianism
Crosses - General
Crosses - Specialized
Hinduism
Islam
Judaism
Objects/Symbols
Saint Cartoons

Road Signs

Brush Stroke
Road Signs (A-Z)
Traffic Signals

Science

Chemical Elements
Meteorology
Symbols

Science Fiction

Seasons & Weather

Advertising
Autumn
Clouds & Storms
Other
Spring
Summer
Sun & Moon
Winter

Shapes

Abstract
Brush Stroke
Polygons
Simple
Three-Dimensional

Signs

Brush Stroke
Caution Signs
Caution Tags
Danger Signs
Danger Tags
Environmental
Exit Signs
Fire Signs
Hazmat
Humorous
Information Signs
Labels
Safety Signs
Warning Signs & Tags

Space

Sports

Advertising & Titles
Baseball & Softball
Basketball
Billiards
Bowling
Brushstroke
Cartoons
Courts & Fields
Football
Golf
Line Art
Other
Racing
Racquet Sports
Silhouettes
Soccer
Track & Field
Volleyball
Water Sports
Winter Sports

Stamps

Stars & Starbursts

Symbols

Technology & Communication

General
Postal
Print Media
Satellites
Telephone & FAX

Time

Titles

College Names
General
World

Tools & Hardware

Transportation

Advertising
Air
Boats & Ships
Car Parts
Cars & Trucks
Cartoons
Commercial Vehicles
Other Ground
Silhouettes

Travel & Leisure

Cards
Chess
Games & Hobbies
Vacations

Trees & Leaves

Western & Rodeo

Zodiac & Astrology
No Downloading Required!

Considering other clip art libraries? Better choose carefully. You'll find a number of products that might look impressive at first but have far fewer than half of the images on the CD-ROMs inside the box. You'll need to download the rest of them from a website... if you're lucky enough to find what you need.
But with Art Explosion products you get everything you've bargained for - right inside the box.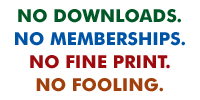 With Art Explosion 800,000 on your side, no project is too large or too abstract. From Advertisements to Web Pages, you'll always find the perfect image to help you design the perfect project. And with Art Explosion's unparalleled selection and quality, you won't run out of ideas or images.
Banners
Brochures
Envelopes
Flyers
Invitations
Logos
Multimedia Presentations
Newsletters
Proposals
Reports
Stationery
Term Papers
Web Pages and Much More!
DrawPlus 5

DrawPlus is a powerful graphics editor, making it easy to customize any Art Explosion vector clip art image. But that's just the beginning.

This innovative software also lets you create logos, complex illustrations, web animations and everything in between! DrawPlus makes it easy with a series of wizards and simple tools that make it as approachable to the beginner as it is to the seasoned professional.
DrawPlus includes...
Automated wizards
Intelligent drawing tools
Vector graphics with photorealistic quality
Complex fills and transparency
Soft shadows and artistic lines
CMYK separations
Web graphics and GIF animation features
And much more!

1800 Fonts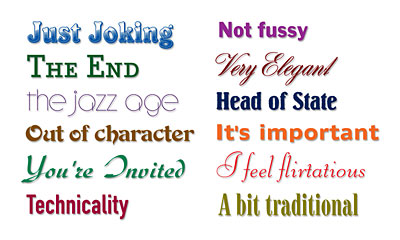 Add pizazz to any document with 1800 premium-quality TrueType fonts - serif, san serif, script, decorative, novelty typefaces and more!

800,000+ Royalty-Free Images
4 DVD-ROMs
More than 80% Color Images
Includes More Than 350,000 Exclusive Graphics
120,000 24-bit Color Photos and Backgrounds
Image Browser Software with Full Color Previews
Features Popular WMF, TIF, JPG and GIF File Formats
Free Unlimited Technical Support
Bonus - DrawPlus 5 from Serif for Your Drawing and Graphics Needs
1800 Fonts
To use Art Explosion 800,000 you'll need:
Windows XP, Vista, 7, 8 or 10
Pentium 133 Mhz or faster
32 MB RAM
DVD Drive

Compatible with virtually all word processing, desktop publishing and graphics programs including:
Microsoft Word
Microsoft Works
WordPerfect
Microsoft Publisher
CorelDraw
Adobe Illustrator
Freehand
PowerPoint
PhotoImpact Pro
Photo Explosion
Adobe Photoshop
Digital Image Pro
Quark XPress
Print Shop
PrintMaster
Greeting Card Factory
American Greetings CreataCard
Hallmark Card Studio
Scrapbook Factory
and More!