Lightning PDF Professional 9 for Mac
The Fastest, Easiest Way to Create, Convert & Edit PDF Files
Buy Download
60 Day Money Back Guarantee
Secure Online Ordering.
Our Systems are tested daily by McAfee and secured by SSL

CREATE industry-standard PDF files from text files, images and web pages
EDIT PDF text, images, watermark and pages with full editing features
COMMENT using annotation and mark up tools
CONVERT PDF files to various document types
Leading-edge OCR digitizes text in image-based PDF files
"Quick-Sign" PDF documents with handwritten signatures
Fill out and customize PDF forms from templates


Buy Download
60 Day Money Back Guarantee
Secure Online Ordering.
Our Systems are tested daily by McAfee and secured by SSL

Lightning PDF Pro 9 for Mac makes it easy to handle a variety of tasks when working with PDF files. You can update and edit PDF files, edit PDF text and images, split and merge PDFs, review and collaborate with others, plus fill out PDF forms.  In a few clicks, you can also convert PDFs into Word or text formats for easy review and editing. Using built-in OCR technology, you can even edit and convert image-based PDF documents. Version 8 easily supports creating industry-standard PDF files from web pages, images, RTF and plain text files too. It's a must-have program for anyone who works with PDF files on a Mac.
Create Industry Standard PDFs
Create 100% industry-standard PDF files from and text (.rtf, .rtfd, .txt), images (.png, .jpeg, .jpg, .bmp, .tiff, .bmp) and web pages (.html & .htm) files.
The newly created PDF files can be viewed and edited with any professional PDF program, like Adobe Acrobat on any computer.  
Combine different types of files into a single PDF document.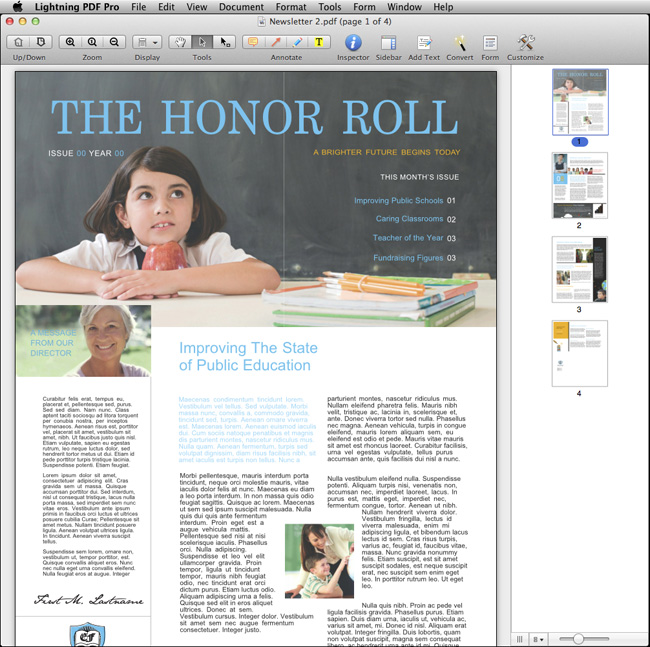 Edit Text, Images & Watermarks

Edit text and objects in a PDF file using a full toolbox of editing tools.
Automatically match text font style, color and typeface.  
Insert, delete and crop images quickly.
Add and remove text and image watermarks effortlessly.
Split, Merge & Convert
Delete, extract, insert and crop PDF pages.
Split a large PDF document into a small one.
Merge multiple PDF files into a new single PDF file.
Rotate PDF orientation between Landscape and Portrait.
Convert PDFs to:

Microsoft Word documents
Excel spreadsheets
PowerPoint slides
Plain Text files
HTML page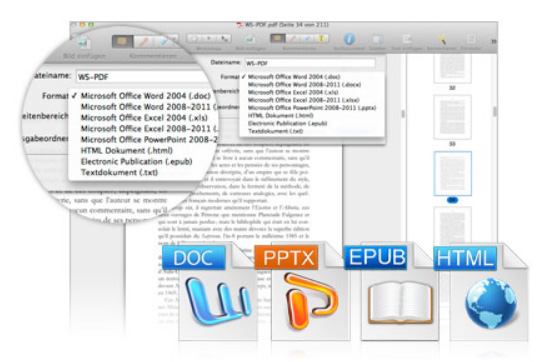 You can even convert EPUB eBooks for reading on phones and tablets. 
Mark Up & Annotate

Annotation, markup and freehand drawing tools bring focus to text with highlighting, underlining, strikethrough, sticky notes, text boxes, rectangles, clouds, arrows and stamps.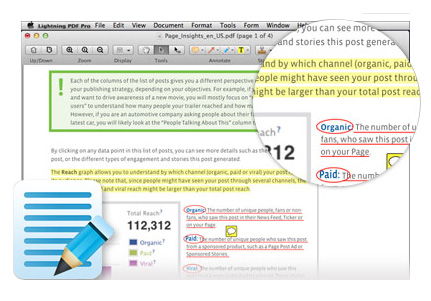 Password Protect
Protect PDF files from being opened, copied, edited or printed by unauthorized people.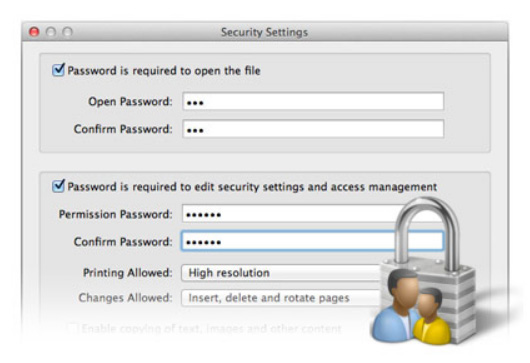 OCR Technology

Recognize and digitize text in image-based, scanned PDF files making it possible to select, search and edit the text.
Enable OCR before converting image-based PDFs, which in return will make the output documents editable as well.
Recognizes PDF files in English, German, French, Italian, Portuguese, Spanish, Japanese, Korean, Greek, Russian and Chinese.
Customize Forms
Create interactive fields with highlighting to make it easy to fill in forms. 
Customize PDF forms from templates and edit the form's interactive fields.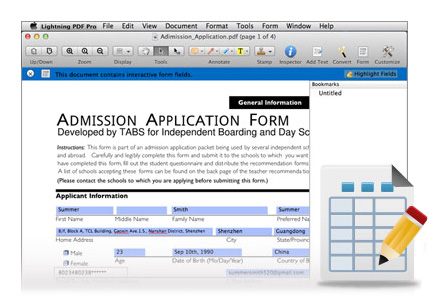 Optimized for OS X Yosemite and OS X El Capitan

New -

All new user interface - even easier to use

New -

Integrated OCR support

New -

Batch OCR and conversion support

New -

Retina display support

New -

Compression options optimize files sizes

New -

Image crop, rotate and extract image tool

Now -

Use PDF files as a watermark

New -

Support for Bates number for legal and medical documents

Now -

Export PDF files as a single image
Mac OS X 10.6 and up
CPU: Intel 512MHz
Hard Disk: 100M and above