KeepItPrivate Internet Privacy Professional
What you do on the Internet is NOBODY else's business.
Eliminate all traces of your online and offline activities
Clean traces of hundreds of 3rd party applications
Securely remove files using US government cleaning standards
Works in stealth mode so no one knows it's running!
Buy Download
60 Day Money Back Guarantee
Secure Online Ordering.
Our Systems are tested daily by McAfee and secured by SSL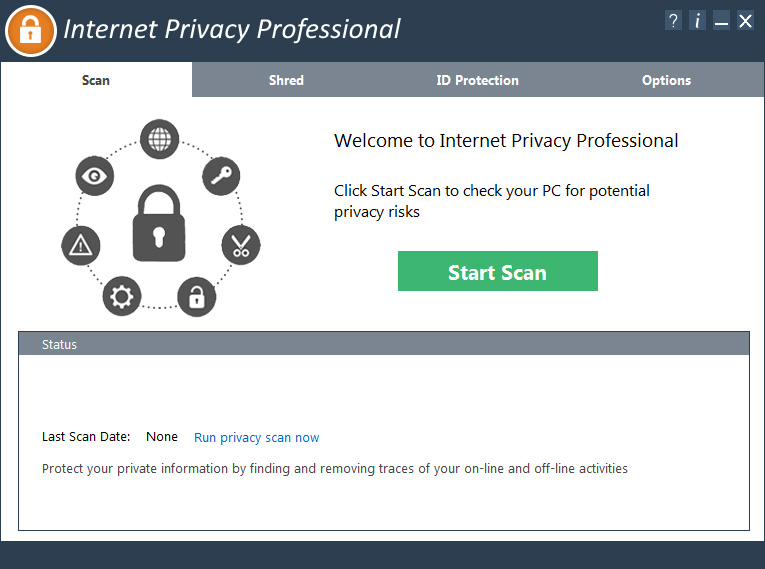 Did you know that your PC records every website you visit, every photo and video you view and every chat message you send - all available for ANYONE to see? With KeepIt Private™ Internet Privacy Pro Software installed on your PC, you'll never have to worry about prying eyes again.
Keep Web surfing private for good with KeepItPrivate:
Delete Browser & IM History
Securely remove files using US government cleaning standards
Works with all popular Web browsers and chat clients
Can be set to automatically erase your tracks and activities
Clean up your Windows history to keep that private, too
Works in stealth mode so no one knows it's running!
Clean traces of 100+ 3rd party applications
For PCs running XP, Vista, 7, 8 or 10
Easy to install, easy to use
Delete Browser & IM History
Internet Explorer, Firefox, Opera, Google Chrome, Safari, Netscape Navigator, AOL, Flock, Maxthon, MSN and more
Cache (temporary Internet files) cleanup
Browser cookies cleanup
Auto-Complete
Internet history and last visited pages cleanup
ActiveX controls removal
AutoComplete forms cleanup
Search history cleanup
Clear Windows® History
Registry streams cleanup
Windows run and find history cleanup
Scandisk files cleanup
Secure Recycle Bin data cleaning
Recently viewed pictures, videos and documents list cleanup
Temporary folders cleanup
Microsoft Office and OpenOffice history tracks cleanup
And more
Clear Traces of 100+ Third Party Applications
NEW! Recurring task planning to scan and cleanup your system
NEW! 3 levels of deletion
NEW! Delete unwanted background software
NEW! Delete all your downloads - if needed
AOL Instant Messenger logs and history cleanup
Yahoo Messenger, MSN Messenger and Windows Live Messenger history cleanup
Skype, Google Talk, ICQ, Pidgin history cleanup
LimeWire, BearShare, BitTorrent, Morpheus, FrostWire, eMule, BitComet, Azureus, uTorrent search and downloads history cleanup
Adobe Acrobat, Flash Player, Real Player, Google Desktop Search, Picasa, ACDSee, iTunes, BSPlayer, DivX Player, FLV Player, VLC Player, Miro, Free Download Manager, GetRight, FlashGet, Orbit Downloader, Nero, WinRar and WinZip history tracks and temporary files cleanup
And many more
Extensive System Cleaning
Scrubs hundreds of areas on your PC to remove personal files to ensure your privacy
and free up valuable disk space.
Browser Activity Eraser
Cleans all aspects of your browser activity, including Internet history, address bar, cache, cookies,
and more. Supports most popular web browsers including Internet Explorer, Firefox, Mozilla, Safari and more.
Permanent File Deletion
Uses US Department of Defense cleaning and sanitizing standards ensuring that once deleted,
your file data is gone forever and can not be recovered.
Clear Traces of 3rd Party Applications
Securely deletes traces of most popular email, messenger, news, media/music player and file
sharing programs.
Clear Windows® History
Clears all traces of your offline activity by erasing the Windows Start menu history, the information
about files you've searched for, the list of recently opened documents and applications, and more.
Smart Cookie Keeper
Deletes the cookies you don't want and lets you keep and save those you do. That way you
maintain your preferred Internet settings and log-ins for all of your favorite sites.