Audials Movie 2020
AUDIALS MOVIE 2020 - Faster, Modern, Easier, Stronger!
Buy Download
60 Day Money Back Guarantee
Secure Online Ordering.
Our Systems are tested daily by McAfee and secured by SSL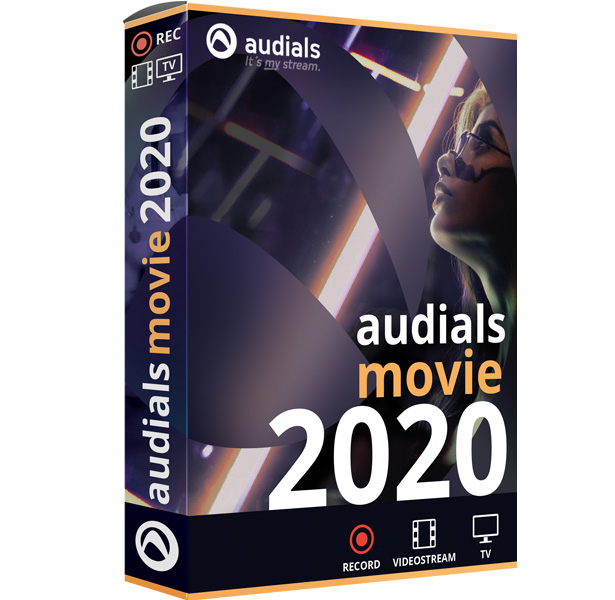 Record movies or TV shows from your favorite Video-on-Demand services in the right format for any device
Edit movies from DVDs, TV or protected online videos
Manage your video collection from TV Media Players and website videos easily
Convert, edit and store your video files for PC, smartphones and tablets
NEW! Smooth higher resolution - Thanks to GPU encoding
NEW! Watch and record Netflix in Super-Crisp 1080p Full HD
NEW! Record Subtitles
Buy Download
60 Day Money Back Guarantee
Secure Online Ordering.
Our Systems are tested daily by McAfee and secured by SSL

Audials Movie brings a modern design with an intuitive user interface, a sleeker overall picture with optimal feature placement and a smarter visual experience. In many places, technical and graphic innovations ensure maximum comfort and ease of use.
TOP IMAGE QUALITY LIKE THE ORIGINAL - BRILLIANTLY CRISP
Ideal video quality and a significantly higher performance, especially for high-resolution Full-HD and Ultra-HD recordings. This is what the new Audials Movie offers. The video recording engine has been completely redesigned. The direct access to the graphics card has been optimized for the most important recording sources and browsers  in order to always receive the best quality without losses. Audials Movie 2020 now uses the brand new encoding technology to get the best possible picture quality with minimum file size, especially in the modern mp4 formats like H.264 and HVEC.
SMOOTH HIGHER RESOLUTION - THANKS TO GPU ENCODING
Audials Movie brings the maximum performance out of your PC, allowing for excellent video streaming. By encoding video directly with the latest NVidia, Intel OnBoard, and AMD graphics cards, Audials takes full advantage of the power and lets you record in the highest image quality.
WATCH AND RECORD NETFLIX IN SUPER-CRISP 1080P FULL HD
Playing and saving movies and series from the video service is possible with Firefox and Chrome usually only in a resolution of 720p. Exclusively with Audials 2020, however, you can play and record Netflix videos even in the highest resolution of 1080p in these browsers.
RECORD SUBTITLES
In many cases, users have desired this feature. Now it is here! Audials 2020 can now save video files including subtitles. This allows you to follow the story better, for example, when watching movies in a different language, even if you do not understand every word spoken in the movie.
NEW LIVE TV SHOWS AND A BETTER EXPERIENCE
The contents of live TV are better and easier to find due to the optimized presentation. In addition, there is now a huge selection of new live streams.
SUPPORTS THE LATEST SMARTPHONES AND TABLETS
Audials has been updated for being able to save videos in the best possible file format for the very latest smartphones and tablets. This ensures that you can enjoy video files anywhere on your new mobile phone.
EASILY TRANSFER EVERYTHING TO YOUR HARD DRIVE
A custom interface makes it easy to save videos. During the recording, the updated mini-window gives you important information for creating the perfect video file and you can manually change the FPS rate.
Audials Movie 2020 is the successor to Audials Moviebox. In addition to the popular Moviebox features, all of which are still on board and have been greatly improved, a variety of new features are included.
Video & TV
stream recordings in unparalleled quality by supporting modern graphics cards
recordings from certain streaming services are only possible with Audials in Full HD (1080p)
you will be able to record subtitles
Bonus
user interface adjustments and optimal placement of functions
Record movies and entire series in unmatched picture quality
SAVE VIDEO STREAM AS FILE
High-performance video recording technology combines network access and direct access to graphic cards to ensure consistently high-quality recordings
Perfect for video streams, online movie stores, media centers and video-sharing services
Videos you have watched are recorded and saved as a video file in your desired format
Automatic background recording of all played videos
Optional manual selection of individual videos from a list
Manually define the recording area by dragging a box around the desired video
OPTIMIZED FOR ALL MAJOR STREAMING SERVICES
Apply the best recording settings by simply selecting the service you want to record
All major video streaming services pre-configured
For every pre-configured service, Audials recommends the website, software or app as the best source for the recording
Record from any website
EASY TO USE
Simple "record while watching" option
User interface guides the user through all steps required to get top quality recordings
Mini-window checks the status of the recording without getting in the way
Mini display of all running streams (with thumbnail) to conveniently select recorded videos
Graphical display of system utilization to avoid overloading
Tips for optimizing settings e.g. for frame rates
Ad filter recognizes and labels ads and prevents them from being exported as files
CREATE VIDEO FILES IN THE HIGHEST QUALITY
Output files in appropriate video format for all devices. More than 100 supported formats (see also: Converter)
Automatically saves key tags for movies and series
Automatically generated thumbnails to manage recorded videos
Tag-completion search engine: semi-automatic search of websites with movie info. Tags are added to output files
Convenient management of movies and series in Audials Media Center
Optional recording of audio track as MP3 file
Automatically detects aspect ratio of original video
AUTOMATIC SERIES RECORDING
Video streaming portals allow multiple episodes to be played back-to-back
Audials records all episodes and saves each one as an individual video file
Automatically and accurately adds tags to the recording, such as "season", "episode" or "series"
Perfect for converting entire seasons into many individual video files over night
RECORDING SCHEDULER: RECORD MOVIES IN SERIES
Programmed recording of any number of movies back to back
Identification of movie clips played in browser, add to scheduler with a single click
Remote control of the web browser, plays movies back to back and records them
Compatible with Chrome and Firefox browsers
HIGH-POWERED RECORDING TECHNOLOGY AVOIDS LOSS IN QUALITY
Many optimizations help to create video recordings without any loss in quality compared to the original
Record adaptive streaming with no loss in quality (adaptive streaming = provider changes the resolution many times during the movie)
Optimized for high resolution video content, particularly 720p-HD and Full-HD (1080p)
Supports Chrome, Firefox, Edge and Internet Explorer browsers (all in 32 and 64 bit)
Supports websites based on html5 as a source for the recording
Supports Silverlight-based websites as a recording source
Supports Flash-based websites as a recording source
Compatible with videos that use EME-standard download protection
Highly optimized for all standard graphics cards
Supports all major versions of DirectX
Quality monitor warns of computer overload to avoid any loss in quality
Resolution reduction enables older or less powerful PCs to record high-resolution content
SAVE IN ANY VIDEO FORMAT
Video recording formats WMV, MP4, MPEG4, AVI, 3GP, 3G2, FLV, MKV, MOV, H.264 and H.265
Pre-defined universal profiles for easy configuration
More than 100 device profiles for the best video output for all major device types
Optimizes files for PC, Mac, Android Smartphone & Tablet, Apple iPhone™ & iPad™, Xbox™ & PS4™ game consoles, and many more
Format editor allows creation of individual conversion profiles
Enjoy and hold on to live or on-demand broadcasts
LIVE STREAMS ENGLISH AND INTERNATIONAL
More than 30 English live streams
All public streams
More than 100 international channels
Spain, France, Italy, Germany, Switzerland, Austria
International and US news channels
COMFORTABLE PLAYER
show all content in any size
Powerful integrated player
Jerk-free fullscreen player
VIDEO RECORDER
Highly optimized recording directly from graphics card (see e.g. Movies)
Recording can always be started and stopped with just one click
Recording in the background while watching
Recording all on-demand content possible
Recording of livestreams possible
Variety of supported video formats (MP4, H.264, H.265, AVI, u.v.m.)
Automatic naming and tagging
MUSIC TV
All major live music TV channels included
More than 50 international music TV streams
Variety of genres and categories
Play all files on PC, smartphone and tablet
READS AND IMPORTS ALMOST ALL AUDIO/VIDEO FILE
Imports all major audio formats to convert (over 40 formats)
Also converts protected audio files by playing them and automatically re-recording them at high-speed
Converts protected audio books at high speed using the virtual audio CD driver
Optimized audio book mode with output as a single file or as individual files for each chapter
Imports all major video files to convert (over 45 formats)
Converts protected video files by playing them back and automatically re-recording them from the screen
Extracts audio track from the video as an audio file
CREATE AUDIO AND VIDEO FILES IN ALL MAJOR FORMATS
Export audio formats: MP3, WMA, WMA Pro, OGG, FLAC, WAV, M4A, AAC, AIFF, AU and CAF
Export video formats: WMV, MP4, MPEG4, AVI, 3GP, 3G2, FLV, MKV, MOV, H.264 and H.265
Pre-defined universal profiles for easy configuration
Over 100 optimized device profiles enable optimum video output for all major device classes
Pre-configured profiles for all current major smartphones and gadgets
Optimizes files for PC, Mac, Android smartphone & tablet, Apple iPhone™ & iPad™, Xbox™ & PlayStation™ game consoles and many others
FINE-TUNE WITH INDIVIDUAL PROFILES
Format editor enables creation of individual converter profiles
Adjustable bitrate settings (same as original file, exact, maximum), VBR supported
Adjustable frame size (same as original file, halved, exact, maximum)
Adjustable frame rate
Separate settings for audio and video tracks in video files
HIGH-PERFORMANCE CONVERTER
Optimized for maximum video quality
Precise adjustment of whether to favor output quality or smaller file size
Supports stereo and 5.1 audio
Convert as many files you like at the same time
Batch conversion with automatic shut-down option after task completion
COPY DVD - COPY PROTECTED AND UNPROTECTED DVDS
Reads and converts unprotected DVDs directly
Simple, semi-automatic selection of feature film and language
Copies protected DVDs by playing them back and re-recording
Converts any DVD to the correct format for PCs, tablets and smartphones
CONVENIENT MUSIC MANAGEMENT/MUSIC PLAYER
Convenient player with playlist management functions and display of song lyrics
Music Universe enables visual browsing (via artist photos) of similar artists in your own collection
Various displays available according to artist, genre, etc.
Configured information columns for beginners and experts in media collection view
Automatic reloading and display of artist photos
High-powered search of entire media collection
Playlists of similar artists and genres generated automatically
Supports links to online videos (e.g. from Vimeo) in playlists
VIDEO AND MEDIA MANAGEMENT
Manage media other than music, including movies, series, video podcasts, radio show recordings, audio podcasts and many more
Choose between visual display (thumbnail) and column view which displays all file properties
EDIT MUSIC AND MEDIA FILES
Automatic online search for missing ID3 tags and album art
Automatic online search for song lyrics
High-performance tag editor, easy drag-and-drop tagging available
Audio editor enables post-editing of music files
Ringtone editor creates ringtones from songs
Integrated movie search engine searches the Internet for tags for movies and TV series
HIGH-PERFORMANCE DATA MANAGEMENT
High-performance management of duplicate files. Only the best version is displayed by default – alternate versions can be shown at any time
Clean-up mode: find all files with multiple versions – ideal for deleting duplicates
Work with as many music collections as you want
Dual music collection' display enables flexible transfer to and from a wide variety of file locations
Optional display of physical file structure for the media collection
Flexible rule-based fine-tuned control of file names/folders for all created files
Flexible rule-based re-sorting of file names/folders for individual files or the entire music collection
PERFECT INTERACTION WITH SMARTPHONES AND TABLETS
Optimized for 'filling up' Android smartphones & tablets as well as Apple iPhone™ & iPad™
Dual-device display enables flexible transfer to and from a wide variety of devices and file locations
Copying in the background, status bar displayed for devices
Audials Anywhere enables remote access to PC music collection (with transfer function) from an Android smartphone
POWERFUL IMPORT AND EXPORT FUNCTIONS
Pre-configured for all major cloud services. Upload, download, synchronize, use in playlists
Audials Anywhere enables remote access to the media collection of another PC or smartphone (i.e. use a PC as a private media cloud)
Import and export playlists in .pls and m3u format
Burn audio and mp3 CDs and DVDs
Conveniently create and wirelessly upload individual ringtones for cell phones and smartphones
Directly export to media player software (iTunes, Winamp, VLC, Windows Media Player)
Windows 10, 8, Windows 7, Vista
1 GHz CPU
1 GB hard drive space
1 GB RAM