Stellar Data Recovery for Windows Professional
Software to Restore your Files for Windows
Buy Download
30 Day Money Back Guarantee
Secure Online Ordering.
Our Systems are tested daily by McAfee and secured by SSL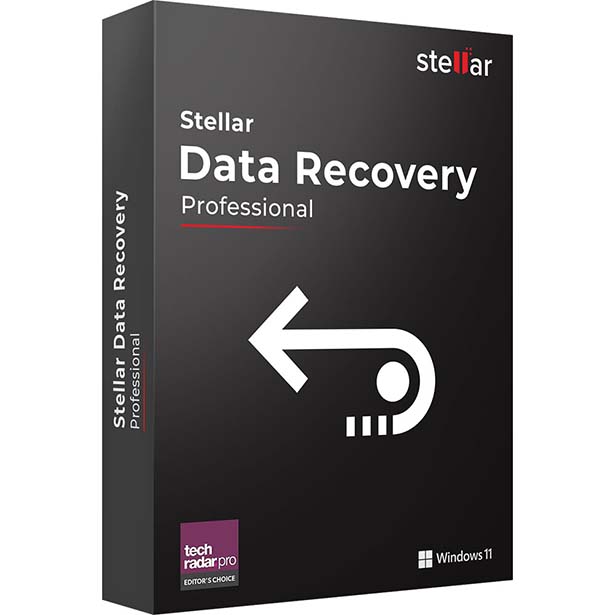 NEW!

 Supports Physical disk Recovery in RAW mode for files and folders

NEW!

 Support added to scan Free Space/ severely corrupted volume/ non-recognizable volume/ Unallocated/ Unformatted Volume in RAW mode

NEW!

 The scanning engine is updated to handle disk/drive with large numbers of files & folders

NEW!

 More than 40 File types added like HEIC, CR3, .VSD, etc
Effortless recovery software for any data loss situation
Recovers data from any Windows device and compatible storage media
Recovers data from corrupt hard drives, lost partitions, and optical media
Recovers virtually ANY type of file by using the file signature
Add-on drive monitor utility and disk cloning for secure data recovery
Buy Download
30 Day Money Back Guarantee
Secure Online Ordering.
Our Systems are tested daily by McAfee and secured by SSL

Recover all your data! 
Stellar Data Recovery Professional is the preferred software to recover lost or deleted data —documents, emails, pictures, videos, audio files, and more—on any Windows device. Deals with all types of data loss scenarios including accidental drive formatting, disk corruption, encrypted hard drives, and unintentional deletion. Supports data recovery from FAT, ex-FAT, and NTFS drives and partitions.

 Recovers Lost or Deleted Files and Folders
Stellar Data Recovery Professional is a powerful tool that caters to all your data recovery needs. Whether you've lost data due to accidental deletion, drive formatting without backup, Shift + Delete files, unexpected computer shutdown, or other reasons, this DIY software will help you recover the lost data. You can even restore permanently deleted or hidden files effectively.

Recovers Data from Missing Partitions
This Do-it-yourself (DIY) data recovery software helps you best recover drive partitions lost due to drive corruption, deletion, formatting, or other reasons. Just select can't find drive option in the software to recover deleted or missing drive volume/partitions efficiently. You can further select all the files and folders and recover them simultaneously.

Recovers Data from Encrypted Drive
You can recover lost and deleted data from "BitLocker" encrypted hard drives, SSD, or external storage media drives. You can also recover data from a BitLocker encrypted disk image file and choose to run a 'Quick' or 'Deep' scan to recover lost data. The user must enter the BitLocker recovery key for data recovery from encrypted drives.

 Bootable Recovery from Crashed Windows
This easy-to-use yet powerful data recovery software allows you to create a bootable recovery drive. You can use this bootable drive to recover data from Windows systems that fail to boot or crash for reasons like BSoD errors, boot sector corruption, hard drive failure, corrupted system files, drive file-system damage, virus infection, and more.

RAW Data Recovery
The software supports recovery from severely corrupted or RAW physical or removable storage media drives such as HDDs, SSDs, USB drives, and 4K Drives. It scans through each sector of the drive to locate and restore every bit of data. In addition, the software efficiently scans the RAW or inaccessible external hard drives' partitions or volumes and retrieves data using the file signature.

Restores Lost Email Files
The software gets back lost or deleted email data files including Microsoft Outlook (PST), Outlook Express (DBX), Exchange Server (EDB), and many other file types. You just need to select 'Emails' under 'Documents, Folders & Emails' in the 'Select What to Recover' screen and scan your hard drive; the software will list all the lost or deleted email files for recovery.

Preview the Data before Saving
You can see an enhanced view of the files found in the scanning process. The software scans each sector of the storage media drives to find lost or deleted files and neatly categorizes the scanned data in Tree View, File Type, and Deleted List formats for effortless data sorting and verification before saving. In addition, you can preview files to ensure their quality and then recover them.

SMART Drive Monitoring
The add-on Drive Monitor utility reads and displays your hard drive's key attributes, including temperature, drive health, and performance. This utility is quite helpful in preventing further damage to the drive that may occur due to increasing bad sectors, severe corruption, and other such reasons, eventually causing the drive to fail and putting data at stake.

Recover Data from 4K Drives
Stellar Data Recovery Professional provides an advanced capability to recover lost or deleted data from 4K hard drives. It can perform deep scanning on large-sized sectors of 4096 bytes and retrieve the data in scenarios like deletion, corruption, lost partition, etc. The tool supports 4K drives formatted with FAT32, ExFAT, or NTFS file systems.

Recover Data on a Dual Monitor Setup
You can run the software on a dual monitor setup and perform multiple tasks without switching or minimizing the screens. The feature helps in performing complex data tasks such as recovery from corrupted or lost partitions with precision and ease.

Optical Media Recovery
Stellar Data Recovery Professional for Windows offers a powerful feature to recover data from scratched or corrupt optical media. The software supports data recovery from CD, DVD, HD DVD, and Blu-ray disc, burnt on any system. It also maintains the original file names and folder structure of the recovered files.

Disk Imaging and Drive Cloning
The software offers Disk Imaging and Drive Cloning features. The 'Disk Image' allows you to create an image of the hard disk to perform data recovery later using that disk image. The 'Drive Cloning' feature helps you create a replica of the hard drive on a different drive. These features help recover data from logically damaged hard drives or drives with bad sectors.

| | |
| --- | --- |
| Version | 11 |
| Platform | Windows 7, Windows 8, Windows 10, Windows 11 |
Processor: Intel compatible (x86, x64)
Memory: 4 GB minimum (8 GB recommended)
Hard disk: 250 MB for installation files