Greeting Card Factory Deluxe 11
Bigger selection * Better graphics * More ways to show you care
Buy Download
60 Day Money Back Guarantee
Secure Online Ordering.
Our Systems are tested daily by McAfee and secured by SSL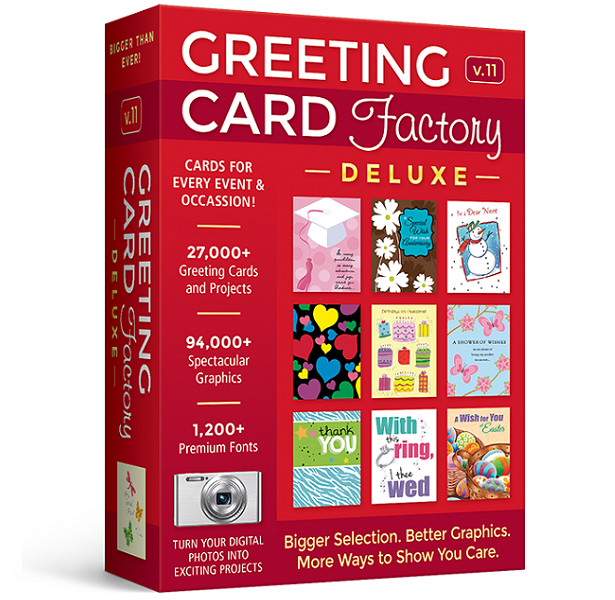 Customize! Create greeting cards, calendars, photo projects and more
27,000+ Cards and projects
94,000+ Graphics
Easy! Complete projects in 3 easy steps
Included! Advanced photo editor
Buy Download
60 Day Money Back Guarantee
Secure Online Ordering.
Our Systems are tested daily by McAfee and secured by SSL

Customize, personalize and send the very best store-bought greeting cards with one great software product - Greeting Card Factory Deluxe 11! This new version contains the ultimate collection of retail-quality cards for every event and occasion. With beautiful graphics, text effects and heartfelt sentiments to choose from, you'll create greeting cards that not only look incredible but express your inner-most feelings every time. 
Plus, Greeting Card Factory Deluxe 11 offers more than just cards. Increased content, contemporary new features, an easier to use interface and enhanced browser system let you search for other customizable projects like invitations, thank you notes, stationary, envelopes and more! Even correct and add your own digital photos to cards, calendars and crafts using the Advanced Digital Photo Editor. 
Create the best in personalized greetings with 27,000 cards & projects and 94,000 graphics in the new Greeting Card Factory® Deluxe 11 today!
Greeting Card Factory Deluxe 11 makes it easier than ever to create customized greetings with the ultimate collection of cards, invitations, announcements and more.
Create the ultimate in digital greetings – a photo slideshow you can watch on TV!
Delight Family & Friends with Photo Calendars
Now you can easily create custom daily, weekly, monthly and annual calendars using dozens of professionally-designed templates.
Then add your own digital photos to create one-of-a-kind gifts!
Greeting Cards
Invitations
Photo Cards
Thank You Notes
Stationery
Envelopes
Note Cards
Labels & Stickers
Photo Projects
Web Projects
Custom Photo Calendars
Gift Tags
Email Greetings
Photo CD Greeting Cards
Pop-Up Cards
Certificates
Crafts

Only Greeting Card Factory Deluxe Version 11 gives you the creative edge with quality Art Explosion® graphics – the #1 choice of consumers.
Drag and Drop
Apply gradients and textures to text.
Add drop shadows
Place text on curves.
Even insert pictures into text.
Capture photos directly from your camera or scanner
Use powerful photo customization tools.
Apply sensational photo effects.
And much more!
Windows XP, Vista, 7, 8, 10 or 11
512 MB RAM
Pentium III 800Mhz or Faster
DVD Drive
Recordable or rewritable CD Drive required to burn CD greeting cards