Audials Movie 2021
The Tool for Fans of Online Video Entertainment at a Low Price
Buy Download
60 Day Money Back Guarantee
Secure Online Ordering.
Our Systems are tested daily by McAfee and secured by SSL

Video Streaming Recorder for Movies from Online Video Services as Netflix, Amazon Prime, YouTube etc.
Series from TV Media Players and Website Videos 
Format Converter
Private Video Library

NEW:

 Drag and Drop function to download a video
Buy Download
60 Day Money Back Guarantee
Secure Online Ordering.
Our Systems are tested daily by McAfee and secured by SSL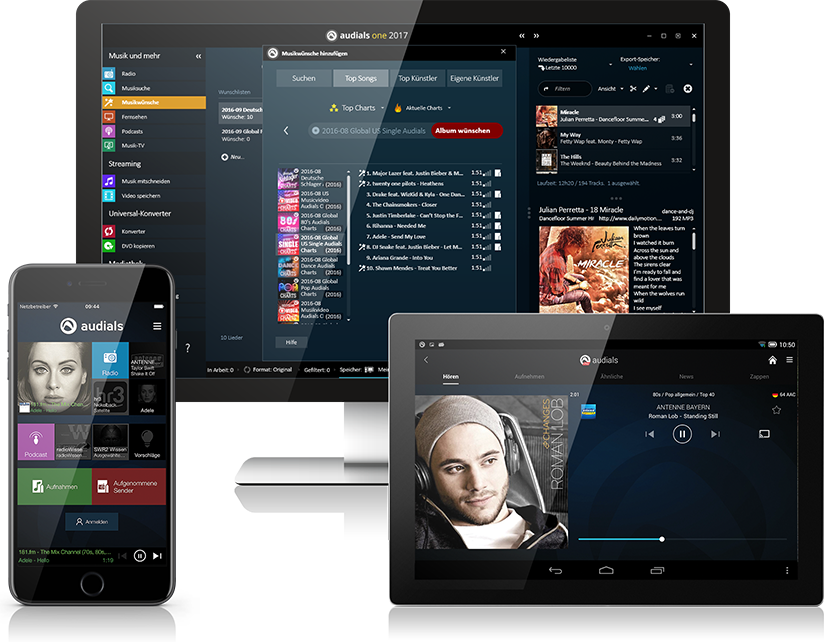 Record protected and unprotected video streams. Copy DVDs. Convert video files for PC, smartphone and tablet.
Total Video - Record and Save Everything Legally! 
Audials Movie records HD movies from video-on-demand services, video clips from websites and TV series from the media libraries of TV stations. It does so without loss of quality and automatically saves videos in any desired format for PC, smartphones, tablets and gaming consoles. Audials automatically names movies and TV series and enhances them with tags for title, film cover image, genre, year, cast, director, producer, scriptwriter, production company and country of origin.
Convert Videos and Films for Any Device! 
With Audials Movie, you can copy both protected and unprotected video files without loss of quality and have them converted into 85 different video formats. Simply select your device from one of the 85 device profiles and the program converts the video files in optimal resolution and quality. Using the DVD copier, you can copy and archive movies.

Media Center
Audials Movie helps you build your own video library. A media manager for PC, Clouds, to fill up your smartphone or tablet as well as a comfortable media player with many extras are therefore also included. Your movies are automatically structured according to category. Tagged movies are automatically sorted into a folder with the corresponding movie genre.
This means that with each new movie added, your own personal video library is expanded. You can also manually add folders for your favorite actors, directors or if a movie has more than one part, put all the parts together in a special separate folder. Instead of seeing only a file name or movie title, you can now browse through your video collection by movie cover image to select and play the video you want.
Save Video
Your Recorder for Recording Streams from Paid Services
In Audials software, the optimal recording methods for the most popular video streaming services, video portals and media libraries come preconfigured. Simply click on the Audials tile for the desired video stream, then start the film and Audials records it in the video format you want and optimised for any device.
Record and Archive All Episodes and Seasons of your Favorite TV Show from Amazon Video and Netflix Automatically!
With Audials, you can automatically record original programs and all other series from Amazon Instant Video and Netflix episode by episode using the new autoplay function in the video stream recorder. This allows you to save every season of your favorite TV show almost overnight. It works great with the Google Chrome browser and in any data format for PC, games console, smartphone and tablet.
Batch Recording is Easy with Audials
You play the desired movie briefly in the browser. Audials is grabbing the link to the stream and adds the film to the recording planner! If you have collected all the movies Audials starts the recording process.
Record All Videos and Films from the Internet with One Simple Click
Many popular online video libraries encrypt their video streams. The majority of tools cannot record such encrypted video streams. However, with Audials Movie you can record any type of video stream directly as you play it. Without any loss of quality and in its original size, Audials records both open and protected videos and films from any source and saves them as a legal private copy.
Auto-tagging for Films and Editor for Manual Changes
Recorded films and series are named automatically and supplemented with tags for the video title, film image, genre, year, cast, director, producers, scriptwriter, production company and country of origin in addition to the information about the recording source, bitrate and its containing folder. Using the editor, you can change this information manually at any time you want later on.

Audials Movie Is Your Universal Converter for All Formats
Audials Movie is a universal converter for all audio and video file formats on PC, smartphone, tablets, netbooks, notebooks, ultrabooks, games consoles and other devices. Music, audiobooks, videos and films are converted to any format quickly and in top quality.
Freedom with Purchased Films and All Devices
If purchased films and videos cannot be played back due to DRM copy protection or their file format, Audials Movie helps you and frees you from any problem: Using legal recording with the PerfectVideo quality guarantee, Audials solves all copy protection problems, saves all films as new unprotected MP4, WMV or H.264 files, for example, and so ensures unrestricted enjoyment on all devices.
Archive Films and Play Them on Devices Without a DVD Drive
Unprotected DVDs are copied in a jiffy. Using the legal recording function of Audials Movie, protected DVDs can also be copied. Owners of additional devices without DVD drives, e.g. smartphones, netbooks, ultrabooks or tablets, can convert all films from DVD for these devices using their PC. Audials Movie even saves the different language versions and film chapters of the DVD when doing so.
Blu-ray Films in the Right Format for PC, Smartphone and Tablet
Using different software tools it is possible to create MKV files of Blue-ray films. However, not all devices can play the MKV video format. Audials Tunebite provides a solution here and converts films from Blu-ray films from the available MKV video format to new files in MP4, WMV, AVI or other video formats both reliably and without loss of quality.
NEW! VIDEO FEATURES
Information related to your recordings such as the name of the movie/series, actors, year of release, genre, director, short description, DVD cover, etc. is now automatically added to all your recordings. Manual adjustments are always possible, but no longer necessary.


From now on, the movies & series available in your video library will be displayed as clearly arranged tiles. Thanks to the automatic tagging feature, your video library will always be kept tidy and will be organized into genres and series without you having to do anything.


The entire content of the music video portal YouTube can now be dragged and dropped into Audials and then recorded. It is also now much easier to browse and link the platform. Your playlists featuring hundreds of songs as well as all your favorite music will now be downloaded to your hard drive in a much quicker and easier process.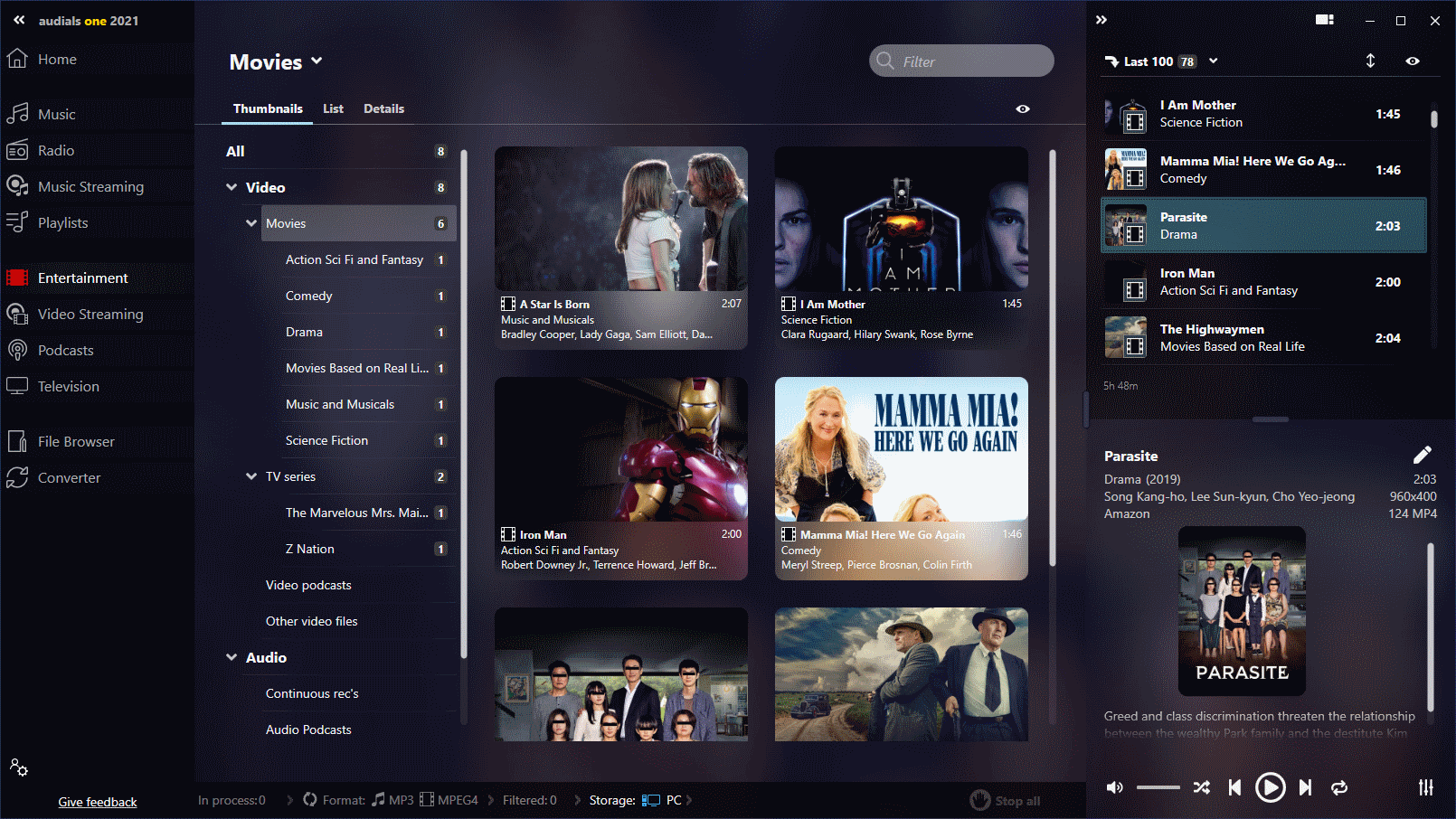 Features

Audials
Music 2021

$29.90

Audials
Movie 2021

$29.90

Audials
Radio 2021

$29.90

Audials
One 2021

$59.90

Audials World Music & more
Radio - Listen & Record Internet radios 
 
 
Music Search - Save Music from Videos
 
 
 
Music Wishes (Radio)
 
 
Music Wishes (Search) - Get MP3-Music for free
 
 
 
Podcasts - Find, subscribe and download
 
 
Music TV - Watch
 
 
Audials World Streaming
Save Music - Record Music-Streaming
 
 
Save Video - Record Video-Streaming
 
 
Audials World Universal-Converter
Converter (Audio) - Convert file format of Music files
 
 
Audio Book Converter - Convert Audio Book files
 
 
Converter (Video) - Convert file format of Videos & Movies 
 
 
DVD-Copy - Copy, record & archive
 
 
Audials World Media Centre
Music 
 
Movies & Entertainment
 
 
All Media - Media-Center
Playlists 
Watch TV
 
 
Windows 10, 8, Windows 7
1 GHz CPU
2 GB RAM
1 GB hard drive space for installation
broadband Internet access