Audials One 2021
Find, Record, Download, Convert & Enjoy Music, Movies, Videos & Radio Stations Anywhere
Buy Download
60 Day Money Back Guarantee
Secure Online Ordering.
Our Systems are tested daily by McAfee and secured by SSL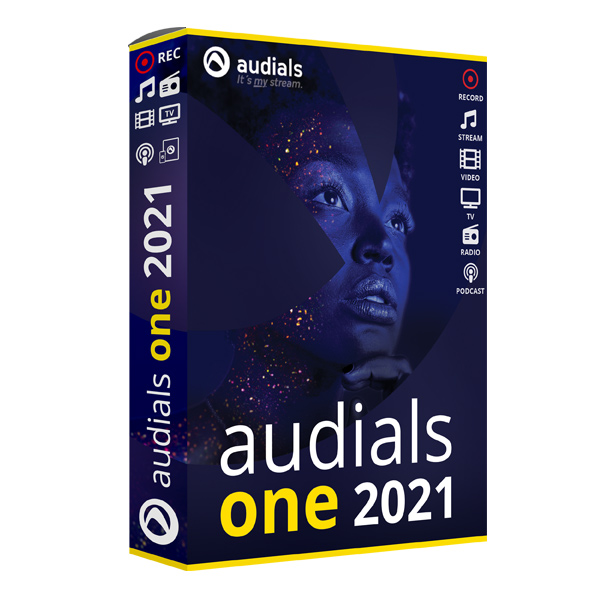 Audials One 2021 is the ultimate streaming recorder! You can now access music and videos faster, easier and in higher quality from an even larger range of services. The new design and powerful Media Manager will also enhance your experience.
Buy Download
60 Day Money Back Guarantee
Secure Online Ordering.
Our Systems are tested daily by McAfee and secured by SSL

Audials One Records Everything
Streaming recorder for music and films. Listen to and record internet radio stations. Format converter for all media and devices.
What is Audials One The Best at? 
Audials One is the best at massive, rapid, legal and free music retrieval! Only Audials One can monitor thousands upon thousands of radio stations and simultaneously search the Internet's best music sources. This means it can get the music you want automatically, in top quality and at amazing speeds, delivering it to your PC's hard disc, to a cloud or to your mobile device connected through the Internet.
The Internet Recorder: Record Anything! Save Everything! 
Radio stations, music streams, video clips and movies from video streams are recorded by Audials One and saved in top quality as individual files. This means you can snatch up any unprotected and protected media from the Internet and enjoy it on your PC, smartphone or tablet - anywhere and anytime!
HIGHSPEED RECORDING
You'll now get all your movies and series from popular streaming services at breakneck speed. The trick: Audials prompts your browser to play videos at twice the speed, and then records them with no loss of quality! This is especially handy when it comes to batch recording: all your videos will automatically be saved to your hard drive, but at double the speed!
OPTIMAL FRAME RATE UP TO 60FPS
You'll now be able to enjoy enhanced video quality thanks to the feature that makes sure that videos are automatically saved at the optimal frame rate! The frame rate of the source video is automatically detected to ensure that not a single frame is lost. This allows you to achieve unparalleled video recordings without having to worry about a thing! Also, Audials now supports recording videos in 60 fps.
We've worked on optimizing the use of graphic card-based encoding and this now works automatically. This lowers the performance requirements and decreases the likelihood of problems occurring in the video recordings. All of the video profiles indicate whether or not GPU support is available, allowing you to benefit from it with all output formats
Information related to your recordings such as the name of the movie/series, actors, year of release, genre, director, short description, DVD cover, etc. is now automatically added to all your saved videos. Manual adjustments are always possible, but no longer necessary.
From now on, the movies & series available in your video library will be displayed as clearly arranged tiles. Thanks to the automatic tagging feature, your video library will always be kept tidy and will be organized into genres and series without you having to do anything.
Audials 2021 now supports the recording of live video streams as seen on Twitch, YouTube live, Facebook live, and other services. You can determine which parts of the live stream you want to have recorded. Audials now also includes a timer (to schedule a recording for a later point in time) and an auto-stop function if you only wish to record up to a certain point. The recording quality is optimized, so you will always get perfect quality video files.
Thanks to the new user interface, downloading music has never been easier. Simply drag and drop your songs, albums or playlists into Audials and have them recorded for you at 30 times the normal speed. Or simply play them using the music streaming service - Audials will save everything. Audials will also always select the ideal settings, but you have the option to change them at any time.
Recording music streams as files
Audials can scan and record music from YouTube, Spotify, Soundcloud, Deezer, Amazon, Apple Music, Napster and many other online sources. It does not matter whether you record form a web player or a PC software. Thanks to the fingerprint-based song recognition, Audials can save songs from almost any source as separate files. If a streaming service is not preconfigured as a tile in the Music Streaming view, you will be able to record it by clicking the Other Source button.
Spotify, Tidal, Apple and Deezer stream your music at up to 320 kbps, and you can save it on your computer with no loss of quality in MP3, AAC or WMA format. Tidal also offers lossless coding and streams its content in HiFi quality at 44 kHz/16 bit or in master quality at 96 kHz/24 bit. This music can be saved in FLAC format or (for HiFi) in WAV format. Master quality is the highest quality available and allows you to enjoy music in studio quality. Benefit from the freedom of being able to record at any level of quality offered by the services!
Using its music map, Audials can access any online music source, enabling it to provide you with the latest charts or entire albums or discographies of your favourite artists in just a few seconds. It has direct access to the highest quality audio track of any music video which it can then download. Audials is even able to record music from Spotify at 30 times the speed: It opens Spotify, speeds up the playback speed and records the music with no loss in quality.
Would you like to be able to access an abundance of music in no time at all? Then all you need to do is drag individual songs, playlists and albums from Spotify into Audials and click on the download button. This way you'll always receive perfectly trimmed music. You can also add the song lists to your wish list and search for songs you like best. Discover similar music or different versions of the same song...from other sources as well.
With Audials Music Load, Audials scans YouTube, Soundcloud, Vimeo, Veoh and Spotify. Simply select a song, album or artist and Audials will quickly and clearly present you all available versions, automatically suggesting the best version. You can play the music directly or select it with one click and get your music immediately. You will be thrilled by how quickly and easily this works! You can type in artists, songs, charts and compilations etc. Then you can play them all, download them or add them to your playlist.
100,000 internet radio stations +
As our database is always being automatically updated, you will always be kept up to date. The Audials radio database is

organized

 according to country, region, language, transmission quality and 120 genres. All of the important radio streaming formats (MP3, WMA, AAC, Shoutcase, Icecast) can be used
Frequently played artists displayed for every radio station including artist photo 

Displays songs played on current station (playlist) 

Option to open websites for every radio station Social news (Facebook, Twitter) from radio stations and artists 

Enjoy shows and podcasts related to radio stations 

Automatic suggestion feature finds stations that match your personal music taste Location-based station navigation by countries, regions, cities or local radio stations 

Stations that often play ads have an "Ads" flag 

World's largest database with more than 100,000 Internet radio stations 

Display and filter based on editing quality, bitrate or stream type 

Current songs and cover art displayed in all station lists 

Station list view either with "live tiles" in various sizes or in list form 

High-powered instant search function for radio stations by genre, country, artists played, stream quality 

Top artists by genre deliver matching radio stations 

Overview of "similar stations and matching categories" for every radio station
Just One Click


What sets it apart from all other tools is that Audials is the only software to offer the necessary configuration in the form of tiles for all important services, which you can use for your recordings in one click! Simply select the source you want to record and Audials will record your movies and series using the Recording Schedule with the best recording method for that particular service! (For YouTube, it is sufficient to copy or drag a the video URL into Audials.) These presets are also regularly checked and adjusted by Audials as a single service for each generation. If you happen to be using a streaming service that is not available on Audials as a pre-configured tile, you are still able to record it by clicking Other Source / Screen Recording.
Graphics Card Recording
Most tools simply record the screen. However, the rescaling of video images reduces the quality of the recording. Only by directly recording the PC's graphics card can the highest quality be guaranteed. This process is technically complex and requires a large number of adjustments to be made to the browsers and the operating system. No other software is able to do this the way Audials does. You will receive the highest quality recordings.
Adaptive Streaming
To compensate for fluctuations in the user's internet bandwidth, Amazon, Netflix and other services send their video streams in separate sections, each of which may be coded differently. Many tools fail when recording this kind of adaptive streaming. However, Audials is able to reconstruct this adaptive streaming into a single movie after recording without any disruptive artifacts or visible transitions. It then saves it without any loss of quality. Audials One can record any video stream from the internet in top quality and then save it as an MP4, H.264 or another video file format with additional movie tags. Audials One comes with a recording planner. This enables users to record several films in a row or even entire seasons of series.
Frame Rate
Video streaming can be transmitted at different FPS (frames per second) frame rates. The most common rates are 25 FPS or 29.97 FPS. Audials recognizes the frame rate and can save the recording in the precise frame rate. This makes the recording look exactly like the original.





The format of video files is important because it determines the file size and whether the file can be played back on the end devices. Audials comes with a powerful encoder engine and generates all common video file formats like MP4, H.264, H.265, 3GP, AVI, FLV, MKV, MOV, WMV and more. Audials provides a variety of device profiles for PCs, game consoles, tablets and smartphones from various manufacturers. The default settings focus on providing the highest quality. However, you can also choose to use a space-saving file size. 

Optimized for high resolution video content, particularly 720p-HD and Full-HD (1080p) 

Supports Silverlight-based websites as a recording source 

Supports Flash-based websites as a recording source 

Highly optimized for all standard graphics cards 

Supports all major versions of DirectX Quality monitor warns of computer overload to avoid any loss in quality 

Resolution reduction enables older or less powerful PCs to record high-resolution content 

Ad filter recognizes and labels ads and prevents them from being exported as files 

Records Netflix, Amazon, Disney+ without loss of quality in highspeed
 Record Netflix in Full HD
Thanks to the developers of Audials, you can now watch and record Netflix in Full HD (1080p) on Chrome and Firefox without any loss of quality. Click on the Netflix panel in the Video Streaming section and follow the instructions displayed on the small window. You can choose whether or not you'd like to record in 1080p. You can also choose to record subtitles or activate the highspeed recording.
For Netflix and Amazon, Audials adds the film tags automatically so that you do not need to do anything! Audials saves recordings from other sources automatically under the correct name. It also features a search engine for movie descriptions. This allows you to add movie tags to your new recordings and existing movie files. Audials scans the internet to find the correct movie summary, the actors involved, the director, the genre and a lot more, and saves all of this to the movie file in just one click
Audials One is able to record any online video stream in Chrome or Firefox in top quality and then save it as an MP4, H.264, and in other formats including movie tags. Simply create a list of movies in the Audials recording schedule. To do so, you simply have to let each movie be briefly started on your browser and Audials will register the movie for recording. Audials will then process the list and record all the movies for you, providing you with your very own collection of movies. Sounds great, doesn't it? Small tip: When it comes to series, you don't need the recording planner. Simply activate the Autoplay function in Netflix and click on the Netflix tile in Audials. Audials will then record the entire season for you!
Watch and record all TV streams
Audials One enables you to comfortably watch the live streams of TV channels as well as their online movie, series and documentary offerings, and even record and save them as MP4, WMV or any other video file format. Audials offers a broad selection based on country, category, TV channel, programme and series episodes. With the search function you can quickly and directly access what you are looking for. You can also jump from station to station and mark your favourites.





Show all content in any size 

Powerful integrated player, whether as part of the Audials software, separate from any other PC applications on your desktop or in full screen mode 

Jerk-free fullscreen player 

Highly optimized recording directly from graphics card 

Recording can always be started and stopped with just one click 

Recording in the background while watching 

Recording of livestreams possible 

Variety of supported video formats (MP4, H.264, H.265, AVI, u.v.m.) 

Automatic naming and tagging
Audials offers over 100 live video streams from TV channels from all over the world. These include CNN for the USA, numerous BBC streams for the UK, NHK World for Japan and France 2 - 24 for France. Italy is included with the RAI stations and Spain as well as other countries are also represented.
USA: CNN, Fox News, Fox 5, ABC News, Newsy, KSHB, KRISTV, TUFF TV, KTNV, Daystar, Cheddar, Nasa TV, QVC, News12, RT, 6 ABC 

Great Britain: BBC One, BBC Two, BBC News, Dave, ITV, Kiss TV, CBBC, Cbeebies, BBC Parliament, BBC Alba, RT, TBN UK, Create and CRAFT, QVC, Ideal World, Sky News 

Spain: La1, Canal 24h, tve catalunya, TV 3 Cat, RTV Castilla-La Macha, Real Madrid TV, Canal 26, Canal extremadura, Euronews, Logos TV, Aragon TV 

Germany: Euronews, Deutsche Welle, Boomerang, Disney Channel, Nickelodeon, ARD One, ZDF.info, eo TV, bibel.TV, KIKA, AstroTV, RIC, 1-2-3 TV, QVC 

Switzerland: SRF 1, SRF 2, SRF info, Tele Züri, Tele Bärn, La télé Austria: ORF, W24, ATV, Servus TV, Puls 4 

France: France 2, France 3, France 4, France 5, BFM, France 24, Gulli, La chaine l'équipe, Franceinfo, Arte France, RT France, 2M Channel, C News, Numéro 23, RMC Découverte, TV5 Monde, TVPI, La chaîne Normande, TV Lourdes 

Italy: Rai 1, Rai 2, Rai 3, Rai 4, Rai 5, Rai Sport+, Rai Yoyo, Rai Gulp, Rai Storia, Rai Scuola, Rai News, LA7, Paramount channel, Euronews, Automoto TV, Canale 7
Audials offers an up-to-date list of the world's best music TV channels that broadcast music clips and music news: 

Deluxe Music, Folx TV, Hit TV, Radio Italia, FM Italia TV 

Kiss TV, M2O, Radio Espace, 1HD, Atomyx TV 

Kral TV, RBL TV, Europa Plus, Ibiza Global TV, Nebiset 

Radio 2, TV Music 3, Radio Monte Carlo, Radio 105 TV 

Simone FM, Slam, TRT Muzik, UTV, Hit TV Morocco 

TV2 Australia, Villanoise, La Belle TV, Radio Fresh, La Mega Bogota FM 

Rockland TV, Radio21, 102.3 Now! TV, Alraya Media, MarkerParkRadio 

Radio Posavina, Belfast Underground TV, Digital Black Music, Generation TV, Guadeloupe 4, Channel 3 Zone 

DJing Summer Vibes, DJIng Karaoke, Relaxing Jazz & Bossa Nova Music Radio, Chill Your Mind, Nonstop Gaming Music 

Pop Music Live Stream, TropicalHouse Radio, Best Deep House, Lofi Hiphop Radio