Audials Radio 2020
Record Targeted Free MP3s & Enjoy All Radio Stations, Music TV Stations, Podcasts & Music Anywhere
Buy Download
60 Day Money Back Guarantee
Secure Online Ordering.
Our Systems are tested daily by McAfee and secured by SSL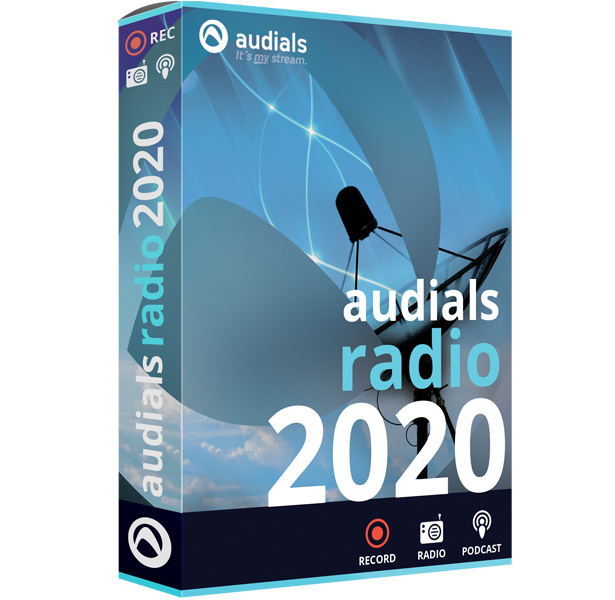 Over 100,000 radio stations from 120 genres
Download the latest hits from your favorite radio stations. Your music – free, legal & fast!
The largest music selection and fastest delivery of MP3 files from top radio stations
Conveniently choose your music from a massive selection of hits, albums and samples
Music-shop quality – but free!
NEW! Labeling of channels that often start with an advertisement through "Ads"
Buy Download
60 Day Money Back Guarantee
Secure Online Ordering.
Our Systems are tested daily by McAfee and secured by SSL

Audials Radio brings a modern design with an intuitive user interface, a sleeker overall picture with optimal feature placement and a smarter visual experience. In many places, technical and graphic innovations ensure maximum comfort and ease of use.
Top radio enjoyment – no ads
Some of the 100,000 radio stations play an ad at the beginning. These are now marked with the note Ads. So you can avoid annoying advertising and rather enjoy what really matters: the best music!
Charts from all Websites
If you find a website that lists songs, such as charts, best-of pages, playlists, etc., just copy the URL of the page and paste the link into Audials.
As if by magic, all the songs on the site are listed in Audials. You can listen to or download them directly from music portals. With this unique feature you will not miss any hits and you will get them quicker and easier than ever before. Try it out and be surprised!
Find your music instantly
Even with a huge collection of songs you'll never lose track: because now you can find music on your PC faster. All you have to do is enter the first letters of the musician, album or genre. Auto-completion will search for results. Even the music genre and tips for other songs, albums or radio stations are displayed.
Type it once, explore everywhere
Now you can simultaneously browse your music collection and all the music in the world. So it is easier than ever to expand your collection or fill the gaps!
Choose what interests you - artists, albums, genres, songs, stations, etc. comfortably with autocomplete - and see next to your music everything that is available from all sources in the world and load it with one click!
Genres perfectly organized
At various points, the handling of genre tags has improved. Audials Radio 2020 will automatically create a list of correct genres and make it easier for you to keep track of recordings with the correct genre. Manual adjustments in determining the music direction are now much more comfortable.
Music Styles - Simple and Versatile
No matter where you are in Audials Radio 2020, you can always set artists or radio stations as styles and switch between different styles as you please. Always get the right music!
Music wishes better than ever
In the Music Wishes section, wish lists can be created and edited more easily thanks to improved suggestions. In addition, the wish list can be fulfilled in a shorter time.
Your favorite stations clearly organized
In the single view of a radio station, the last played songs, similar channels, etc. appear. Scrolling changes the structure of the page, giving more space to the content and giving you a better overview.
Explore genres and countries intuitively
The revised surface facilitates fluid, dynamic operation. Exploring radio stations from different countries and sub-genres is even easier.
Never lose track
No matter in which areas of music or radio you dive deeper, the navigation always shows you where you are at the moment.
Audials Radio 2020 is the successor to Audials Radiotracker. In addition to the popular Radiotracker features, all of which are still on board and have been greatly improved, a variety of new features are included.
Music & Radio
labeling of channels that often start with an advertisement through "Ads"
clearer presentation of the one-station views
Bonus
user interface adjustments and optimal placement of functions
Discover online radios & podcasts from around the world and record them with precision
POWERFUL PODCAST CUSTOMIZATION
Define as many favorites lists as you want ("Styles")
Convenient editing of favorites lists in side column via drag & drop
Pin radio views for quick navigation to favorite categories
Sync all favorites on smartphones/tablet via the Audials apps
Add any number of your own radio stations via URL
Remove unwanted senders from the catalog by blacklisting
Automatic suggestions for additional matching channels for any style (for each favorites list)
Refine the definition of "Styles" by favoriting artists
Direct navigation to stations that frequently play favorite artists
ALL OF THE WORLD'S RADIO STATIONS
World's largest database with more than 100,000 Internet radio stations
Support for all main stream types (MP3, AAC, WMA etc.)
Optimized navigation with sidebar: select personal favorites, all of the world's countries and regions or more than 100 genres
Display and filter based on editing quality, bitrate or stream type
Current songs and cover art displayed in all station lists
Station list view either with "live tiles" in various sizes or in list form
High-powered instant search function for radio stations by genre, country, artists played, stream quality
Top artists by genre deliver matching radio stations
Overview of "similar stations and matching categories" for every radio station
Automatic suggestion feature finds stations that match your personal music taste
Location-based station navigation by countries, regions, cities or local radio stations
ENJOY RADIO
Frequently played artists displayed for every radio station including artist photo
Displays songs played on current station (playlist)
Option to open websites for every radio station
Social news (Facebook, Twitter) from radio stations and artists
Enjoy shows and podcasts related to radio stations
HIGH DEGREE OF INDIVIDUALIZATION
Create as many favorite lists as you want
Conveniently edit favorite lists in sidebar via drag & drop
Pin various radio views to quickly navigate to your favorite categories
Synchronization of all favorites on smartphones/tablets via Audials apps
Add as many of your own radio stations as you like via URL
Blacklisting feature removes unwanted stations from view
RECORD INDIVIDUAL SONGS
Make individual song recordings from any Internet radio station in MP3, WMA or AAC format
Make automatic and parallel mass recordings of numerous stations based on genre, country and artist
Automatic mass recording by genre (record matching stations + music filtering)
Recordings edited to the millisecond via PerfectRadio technology, fingerprint-based editing of individual songs
Display stations that do not require post-editing after recording (diamond stations)
Adjustable quality: only songs that meet your requirements for editing accuracy, bitrate etc. are saved
Timer for time-controlled radio recordings allows you to program unlimited recording sessions
Job function: assign track count and data quantity
Song history retroactively saves songs you have previously listened to
Search for songs in a playlist via "Music search" (see relevant section)
AUTOMATICALLY ADD FINISHING TOUCHES TO RECORDINGS
Internet meta-search automatically adds ID3 tags and cover art to radio recordings
Song lyrics automatically added by meta-search
Normalize the volume of all radio recordings to a uniform level
Fading features can be set at the end of recordings
High-performance editing enables fine-tuning of radio recordings
Automatic categorization of recordings by genre
Dive into the world of music and save top-quality tracks in abundance
RECORD MUSIC STREAMING IN INDIVIDUAL MUSIC PIECES
Record all major streaming services
Highly optimized for Spotify, Deezer, Napster, Tidal, YouTube, Dailymotion, Vimeo, Veoh, Soundcloud, and many others
Fingerprint-based song recognition allows recording of any source
Support for recording via sound card and downloading
Records locally installed software or web-player
Saves individual, labeled songs
HIGHEST QUALITY OF ALL RECORDINGS AND DOWNLOADS
Recording: Exact clipping at start and end of song, no post-processing required
Recording: Support for optimal recording level, including level meter, dialog instructions, auto-detection and much more
Downloading: Automatic selection of the best audio track
Loss-free recording or direct download for optimum quality, depending on the source
SAVE MUSIC QUICKLY
Downloading: Super fast, as only the audio track is loaded
Recording: Makes players such as Spotify playback twice at 5x the speed, thus reaching 10x the speed
Processing of any number of downloads in parallel
Instant display and availability of all finished recordings
FIND AND SAVE ALL MUSIC
Searches all major music services
Monitors all > 100,000 radio stations in the world, finds all songs using clips
Structures and combines search results and shows this in the discography of the artist
Instantly save all songs
For music videos, optionally save the audio track or various video formats
Automatically determines the best version, offers alternate versions simply by clicking
Optimizes the music selection by song or music video
Optionally finds karaoke videos (without vocal track, but with lyrics shown)
Search sources can be expanded with community plug-ins
MUSIC SELECTION AND DISCOVERY
Direct search for artists, songs, compilations, music genres, and radio stations with intelligent suggestions
Discography by albums or top hits for convenient access
All artists shown with photo
Supports compilations, samplers, and best-of albums (all songs are searched)
Display of best matching songs for artist, song, genre, or radio station
Filter by time span or popularity
Display of best matching artists for genre, artist example, song, radio station
Audials Charts - regularly provided, hand-picked best-of lists
Find matching compilations for genre, artist example or song example
More than 100 genres / musical styles, hundreds of top artists for each genre
"Music Zoom": Map calculated using artificial intelligence with over 300,000 artists, sorted by genre, similarity and popularity
PERSONALIZATION AND MUSIC TASTES ("STYLES")
Define several own music "Styles"
Narrow down by favoring example radio stations
Narrow down by favoring artists
Show radio station suggestions that match the style
Show music that matches the style (songs, artists, compilations)
Easy distinction with colors
GET MUSIC IN THE BACKGROUND: MUSIC WISHES
Wishlist (consisting of songs, albums, artists) are automatically filled in the background (added to the music collection)
Simultaneously monitor tens of thousands of radio stations based on your preferred music and record the desired songs
Simultaneous web metasearch through all major portals such as YouTube, Soundcloud, and Spotify
Filter by audio file, music video, or karaoke
And: Identification of best studio version based on lexical analysis and comparison with discography database
And: Finely adjustable criteria in terms of which hits are preferably recorded automatically
Optionally record only radio stations that offer perfect cut quality (no post-processing required)
Optionally load multiple versions of a song, show only the best version (duplicate management, see the media library), subsequent swapping if necessary
Optional display and consideration of pre-existing versions of songs
Definition of strategy on how results from various sources (radio, music websites, etc.) are mixed
Any number of wishlists can be defined and fulfilled simultaneously
Access to Audials community wishlists
Precise job definition: Number of desired versions per song, artist, album, or overall, per data volume or time, number of simultaneous edits
Detailed display of progress and status of fulfilling requests for each song
Powerful filter prevents inadvertent recording
GET YOUR MUSIC COLLECTION AUTOMATICALLY (MUSIC BOT)
Automatic creation of a music collection for individual music tastes
Definition of music taste through examples of artists and/or radio stations ("Styles")
Set the desired number of songs (e.g. 1000)
Set the structure of the music collection: Few artists with lots of songs, many artists with top hits, etc.
Set the content of the music collection: More like the examples, broader, etc.
Instant preview when settings are changed: What collection would result
Fully automatic creation in the background from all streaming services, websites, and radio stations
Detailed display of progress
MUSIC FINISHING (TAGS, LYRICS, CUTTING)
Automatically sets ID3 tags and album covers for recorded tracks
Automatic Internet search for lyrics of recorded songs
Automatic classification of recordings by genre
Powerful in-place editor allows convenient adding of additional tags, also during recording
Normalization of all recordings for uniform volume
Optional adjustable fading (e.g. for cutting points of radio recordings)
Powerful audio editor allows retroactive fine tuning of radio recordings
Windows 10, 8, Windows 7, Vista
1 GHz CPU
1 GB hard drive space
1 GB RAM