Audials Radio 2021
Record Targeted Free MP3s & Enjoy All Radio Stations, Music TV Stations, Podcasts & Music Anywhere
Buy Download
60 Day Money Back Guarantee
Secure Online Ordering.
Our Systems are tested daily by McAfee and secured by SSL

100.000 Radio Stations from 120 Genres

Get Hits, Albums or the entire Discography of your Stars

Thousands of Podcasts for Comprehensive Entertainment

Play your recorded songs offline 
Buy Download
60 Day Money Back Guarantee
Secure Online Ordering.
Our Systems are tested daily by McAfee and secured by SSL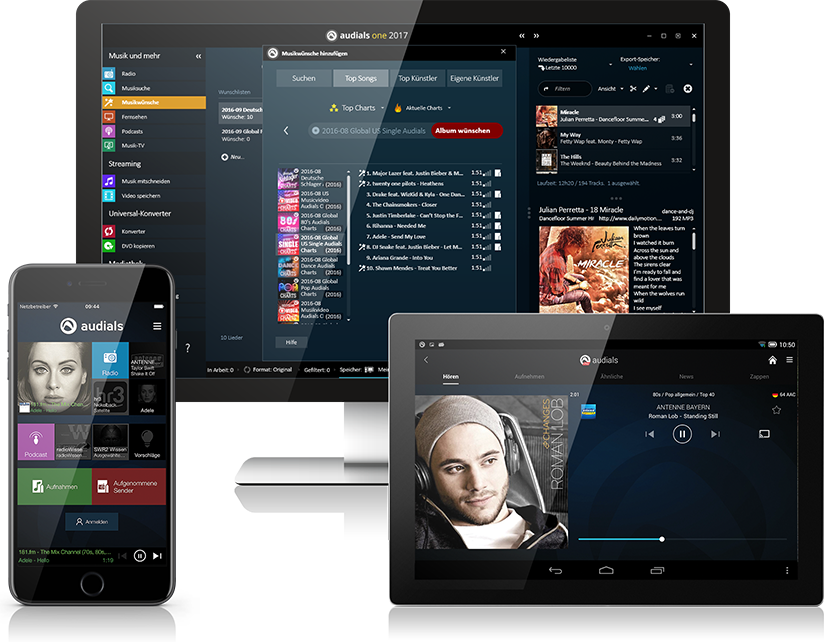 Listen to & Record Radio Stations
Radio Player, Internet Radio Recorder, Podcast, Music TV, and More
100,000 Radio Stations from 120 Genres! Nobody Offers More! 
No software offers as many possibilities for enjoying internet radio perfectly. It's easy as pie to find international, regional or local stations, filtered according to language, genre and bandwidth or even the radios that play your favourite artists most often. With Audials Radio, you see what the stations are playing even before you listen. This can't be described, it has to be experienced!
Masses of Music by Genre, Hits from the Charts, Full Albums and Even Complete Discographies of Your Favourite Stars! 
The Audials Radio database has 10,000,000 tracks. Simply select an artist, album or an individual track and the tool immediately finds the right station using the Audials network, automatically records the desired music and saves it as a private copy on your PC.


Radio
The Best Player for Internet Radio Stations!
Audials Radio provides you with live advance information about the stations even before you start playing them! You can flick back and forth between the radio stations with single clicks. Using the Top Hits function, you can even switch directly to radio stations that are currently playing a top hit.
All Radio Information at a Single Glance!
You get all the important information about the best radio stations on one compact page, including all their radio streams, social news, podcasts and the musicians they play most often. This overview also helps you to find stations that play similar music. Using the radio playlist, you can also record hits even after they've been played!
The Largest Database with the Most Internet Radio Stations!
Along with all the top 100,000 radio stations, Audials also provides you with the best international stations. You can browse through stations in the conventional way according to music genres, countries, languages or locality. Or alternatively, you can find suitable radio stations quickly by entering your favourite artist into the dynamic search function.


Music Wishes
Get Hits, Albums or the entire Discography of your Stars
Just click the album to get all the albums by your favourite stars. With just a single click, Audials Radio rounds up all the tracks from a specific album. You can also select individual titles to record. Just choose a song, artist or album and click to get started. In no time flat, Audials fulfills all of your music wishes with ID3-tags, album artwork and lyrics and stuffs your hard drive full of music!
Diamond Radio Stations only with Audials Radio!
The combination of the music wishes feature with limitation to music wishes from radio stations with diamond ratings is especially useful for users that only settle for high-quality recordings. Users that give Audials the necessary time to perform this function are rewarded with the highest possible recording quality.
Record Massive Amounts of Your Favourite Music Genre 
Simply select your favourite music genre and Audials will automatically record only music tracks that belong to the desired genre from the best radio stations for that genre. You can set a recording limit by using the radio timer for recording duration or by limiting for the total number of recorded music tracks. You can record all tracks from any number of radio stations automatically and have them saved as individual music files. The songs are recorded perfectly from the radio streams, enriched with ID3 tags, album images and song lyrics and then saved as music files.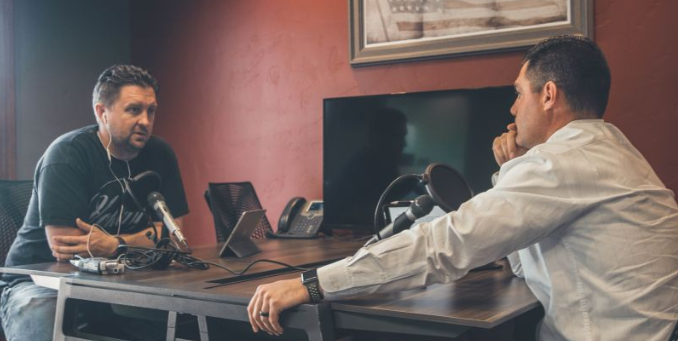 Podcasts
Thousands of Podcasts for Comprehensive Entertainment
With the self-updating podcast database, you can subscribe to, download and enjoy 500,000 episodes of 120,000 different podcasts for free and as audio or video shows from the best podcast providers in the world!
Music TV
Lots of Music TV Stations with Video Streaming
Audials Radio entertains you non-stop in its own media player with loads of the best music TV stations.

Use the Music Universe to browse your Music Collection
For every artist, the Audials music universe shows you similar artists and bands using photos. This means you can comfortably and simply browse through your own music in order to search for new similar music.
Audials cleans up your Music Collection with the Duplicate Manager
Audials Radio only displays the version of a song with the highest quality, while duplicates are kept off-screen in the background. This helps you to keep your music collection neatly organised without losing any tracks. You can still access the duplicates later if, for example, you feel a different version is best or if you wish to view all the duplicates. Finally, you can lump together all the duplicates in your collection and delete files individually or in bunches.
Audials Radio puts the Finishing Touches on your Media Collection
Audials automatically completes your media collection with ID3-tags, album artwork and song lyrics, and does so during the recording process. Audials Radio can also automatically equip imported songs with tags to make sure all of your tracks adhere to the Audials standard.
Mobile Devices and Clouds Filled with Media
Audials Radio fills up your smartphone or tablet either directly via USB cable or via the Internet from the cloud. Using a right-left display, Audials shows the music collection on your PC and the target folder of your connected device.
Audials turns your PC into a Jukebox
With the playlist generator, you can quickly and conveniently create playlists automatically. Simply enter in the genre or artist and Audials Radio automatically creates a new playlist with matching music. Or go about it manually and drag and drop tracks from your music collection into a list and make your own customised playlist.
Features

Audials
Music 2021

$29.90

Audials
Movie 2021

$29.90

Audials
Radio 2021

$29.90

Audials
One 2021

$59.90

Audials World Music & more
Radio - Listen & Record Internet radios 
 
 
Music Search - Save Music from Videos
 
 
 
Music Wishes (Radio)
 
 
Music Wishes (Search) - Get MP3-Music for free
 
 
 
Podcasts - Find, subscribe and download
 
 
Music TV - Watch
 
 
Audials World Streaming
Save Music - Record Music-Streaming
 
 
Save Video - Record Video-Streaming
 
 
Audials World Universal-Converter
Converter (Audio) - Convert file format of Music files
 
 
Audio Book Converter - Convert Audio Book files
 
 
Converter (Video) - Convert file format of Videos & Movies 
 
 
DVD-Copy - Copy, record & archive
 
 
Audials World Media Centre
Music 
 
Movies & Entertainment
 
 
All Media - Media-Center
Playlists 
Watch TV
 
 
Windows 10, 8, Windows 7
1 GHz CPU
2 GB RAM
1 GB hard drive space for installation
broadband Internet access