Driver Genius Professional 10
Automatically Keep Your Drivers Up-to-Date and Your PC Running Like New!
60 Day Money Back Guarantee
Secure Online Ordering.
Our Systems are tested daily by McAfee and secured by SSL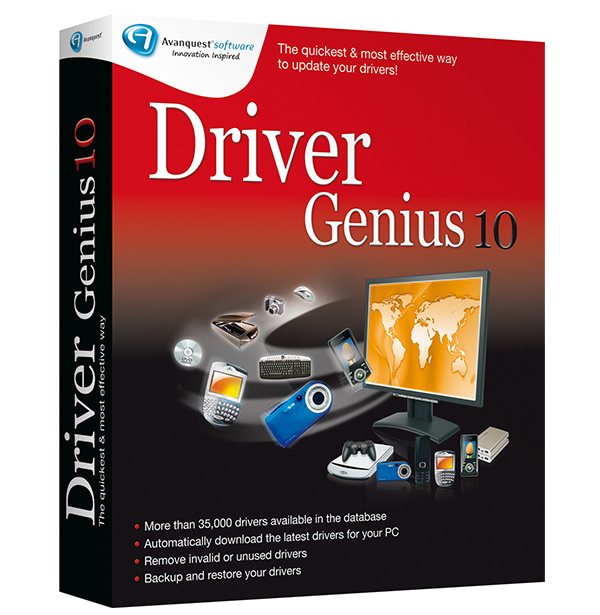 30,000+ Drivers Supported!
Digital Cameras & Video Cameras 
Hard Drives & CD/DVD Drives 
Motherboards & Network Cards 
Monitors & Printers 
VOIP phones & MP3 Players 
Video & Sound Cards 
Keyboard, Mouse and More!

60 Day Money Back Guarantee
Secure Online Ordering.
Our Systems are tested daily by McAfee and secured by SSL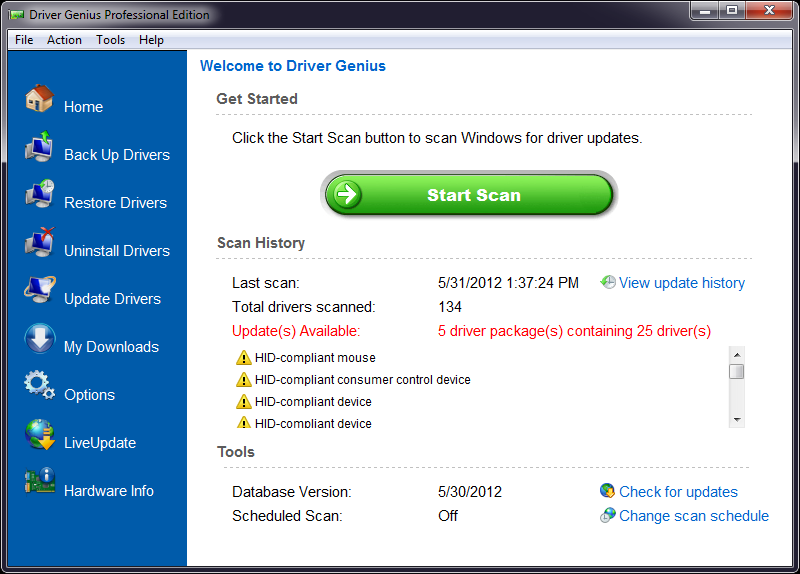 Driver Genius 10 Professional improves PC performance with the powerful driver manager for Windows® that backs up, restores, and updates your device drivers automatically!  With just a few clicks of your mouse Driver Genius updates  the drivers your system can't find on its own! What's more, this powerful and easy driver management tool can analyze your system and recommend suitable drivers for your PC from a database containing over 30,000+ different drivers.  The database contains drivers for the vast majority of hardware devices such as motherboards, video cards, sound cards, network cards, modems, monitors, mice, keyboards, digital cameras, video capture cards etc.
Take the pain out of managing your drivers and buy Driver Genius 10 Professional today!

Why Do You Need Driver Genius?
When upgrading to Windows 7 or purchasing a Windows 7 compatible PC, the BIGGEST problem often facing users is that existing hardware or peripheral devices drivers aren't Windows 7 compatible. Driver Genius eliminates this issue by automatically scanning your PC, finding the problem drivers, downloading the updated drivers and fixing your PC! Driver Genius is essential to any new PC or Windows 7 upgrade purchase!
Update Your Drivers The Smart and Safe Way!
Diagnose, Search, Download and Install From Over 30,000 Device Drivers.
Updates Drivers - Automatically detect which drivers need updating. 1 Easy Step downloads!
Installs Drivers - New Driver Install Wizard makes simplifies installation.
Backups Drivers - Detect and backup installed devices drivers for your PC.
Restores Drivers - Reinstalled your Operating System? Just 1 Click automatically reinstalls all your backup drivers.
Uninstalls Drivers - Remove old and useless drivers that harm your system and slow your PC with just a few clicks of your mouse.
Plus...
Access the Driver Download Manager for faster and more reliable downloads
Use View Details Link to see immediate driver update information.
30,000+ Drivers Supported
Digital Cameras
MP3 Players
Motherboards
VOIP Phones
Video Cameras
Modem Cards
Printers
CD/DVD Drives
Video & Sound Cards
Network Cards
Keyboard & Mouse
Hard Drivers
And More! 
NEW! Driver Scan Scheduler - daily, weekly or monthly scans ensure drivers are current.

NEW! Driver Update Notifications - automatic notification of available updated drivers.

NEW! Download Verification - auto-verifies complete driver downloads.

NEW! Customize your Driver download location.

NEW! Automatically removes of outdated drivers from download manager.

NEW! Hides driver update notifications for specific devices, such as ones no longer in use.

NEW! Update History - keeps a log of all driver updates made on your PC.

NEW! Creates a system restore point before installing new drivers.

NEW! Command line mode - automates driver backup using a command line mode.

IMPROVED! Thousands of the newest drivers added to the Driver Database. More device support than ever before!

IMPROVED! Faster, more reliable driver downloads.

IMPROVED! Driver scan accuracy - provides more accurate information about outdated drivers.

IMPROVED! One - Click Driver installation simplifies installs.

IMPROVED! Enhanced User Interface makes Driver Genius easier and more convenient than ever. Change Font size and more.
| | |
| --- | --- |
| Version | 10 |
| Size | 6.50 MB |
| Platform | Windows XP, Windows Server 2003, Windows Vista 32-bit, Windows Vista 64-bit, Windows XP 64-bit, Windows 7 64-bit, Windows 2008 Server, Windows 2008 Server 64-bit, Windows 2003 Server 64-bit, Windows 7 32-bit |
Version # 10.0
Size of ESD file in MB (if applicable) : 6.5 MB

 
Compatible platforms
Windows XP (32-bit & 64-bit)
Windows Vista (32-bit & 64-bit)
Windows 7 (32-bit & 64-bit)
Windows Server 2003 (32-bit & 64-bit)
Windows 2008 Server (32-bit & 64-bit)