Learn It Now German Premier
The Complete Language Learning Software
Buy Download
Buy Boxed Version
60 Day Money Back Guarantee
Secure Online Ordering.
Our Systems are tested daily by McAfee and secured by SSL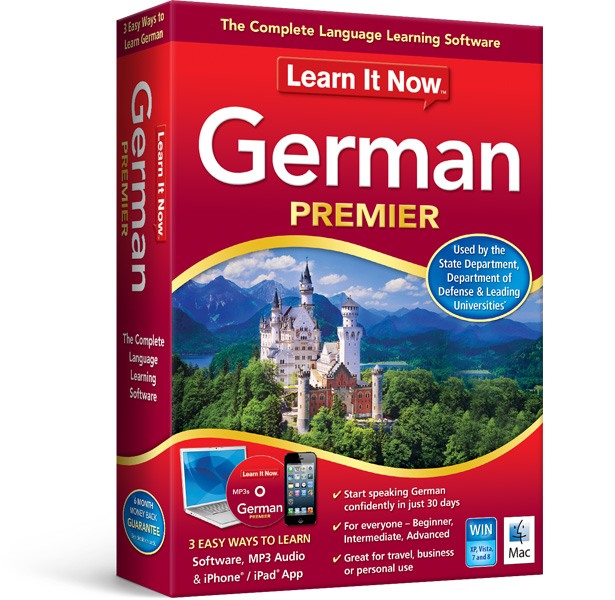 FAST! Speak German Confidently in 30 Days-Guaranteed!

EASY! 3 Ways to Learn – Software, Audio MP3 Lessons, iPad/ iPhone exercises

COMPLETE! For All Levels – Beginner, Intermediate and Advanced

COMPREHENSIVE! Great for Travel, Business or Personal Use

FREE! iPhone/iPad App
Buy Download
Buy Boxed Version
60 Day Money Back Guarantee
Secure Online Ordering.
Our Systems are tested daily by McAfee and secured by SSL

Guten Tag from Learn It Now!
Experience for yourself how fun and easy it is to learn German with Learn It Now. Complete with interactive lessons, games and activities, you'll feel confident with your new German language skills in as little as 30 days - guaranteed!

This groundbreaking software is perfect for beginner, intermediate or advanced speakers looking to build vocabulary, learn common phrases and expressions or perfect an accent. Whether you're learning German for travel, business, school or personal use, this award-winning language learning software will help you become fluent faster than you ever thought possible.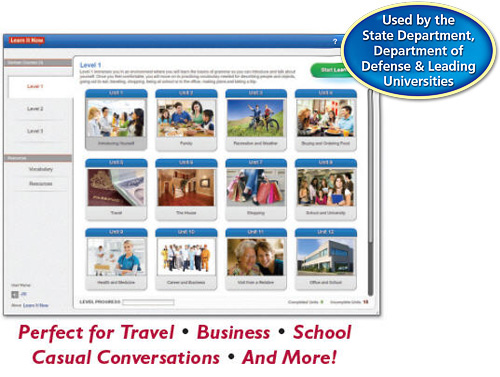 With 3 convenient way to learn, it's easy to become proficient in German using Learn It Now.
1. Software

Learn German on a PC or Mac

Get started fast with a guided software product tour

Includes interactive games & activities, flash cards,             speech analysis tools and more!
2. Audio MP3 Lessons


Master your speaking skills on the go with a complete German audio course.
3. Innovative iPhone & iPad App


Practice your vocabulary with both audio & pictures. Test your proficiency with word lists that match the software.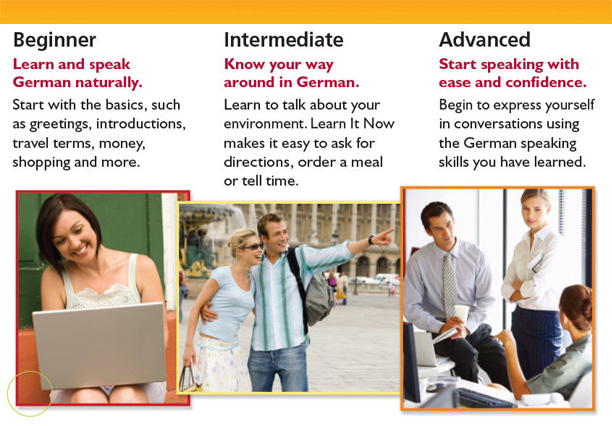 Interactive Games

From puzzles to plug-n-play games, Learn It Now makes learning German exciting for the entire family!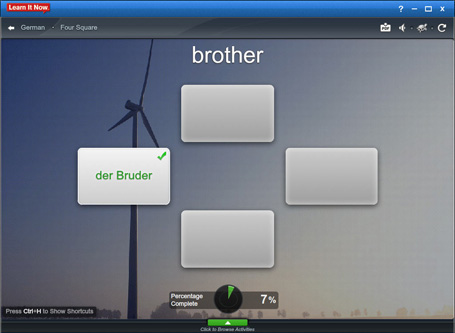 Play Games and Learn German at the Same Time!
Flash Card System

Quickly improve your German speaking skills with this proven learning method.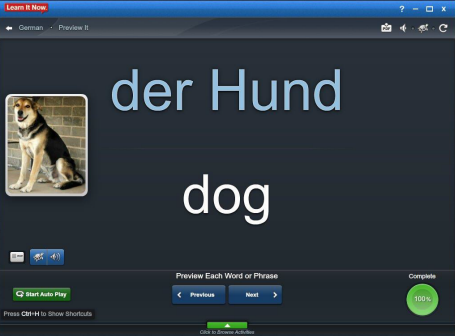 Learn Hundreds of Vocabulary Words Including:

Advanced Speech Analysis

Perfect your German accent with advanced speech analysis tools.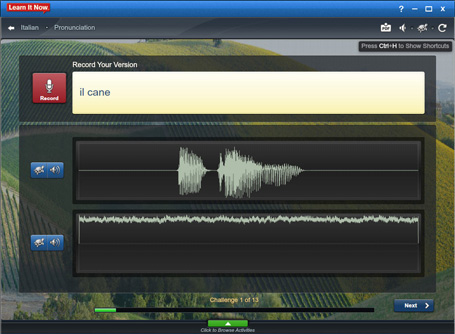 Plus...
Learn From Native Speakers
In what countries is German spoken? What symbol is used above the letter O? With Learn It Now, not only will you become a fluent German speaker, you'll also learn the about the language's special history and unique characteristics. With additional resources that help to guarantee your transformation from novice to confident speaker in just 30 days, it's no wonder that Learn It Now is known as the most complete language learning software!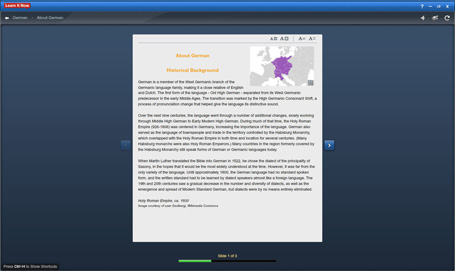 History of the German Language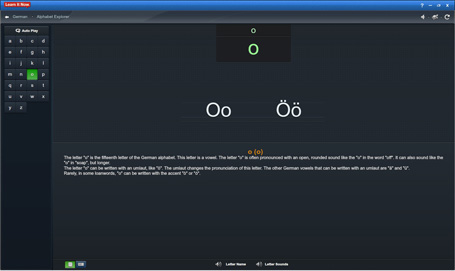 German Accent Marks
Plus:
Windows®
Windows® XP, Vista®, 7, 8, 8.1 or 10
1 GB RAM
DVD Drive
Macintosh
OS X 10.6, 10.7, or 10.8
1 GB RAM
DVD Drive
Optional Devices
Microphone for recording
iPhone, iPad, or iPod