Lightning PDF Professional 9
The Fastest, Easiest Way to Create, Convert & Edit PDF Files
Buy Download
60 Day Money Back Guarantee
Secure Online Ordering.
Our Systems are tested daily by McAfee and secured by SSL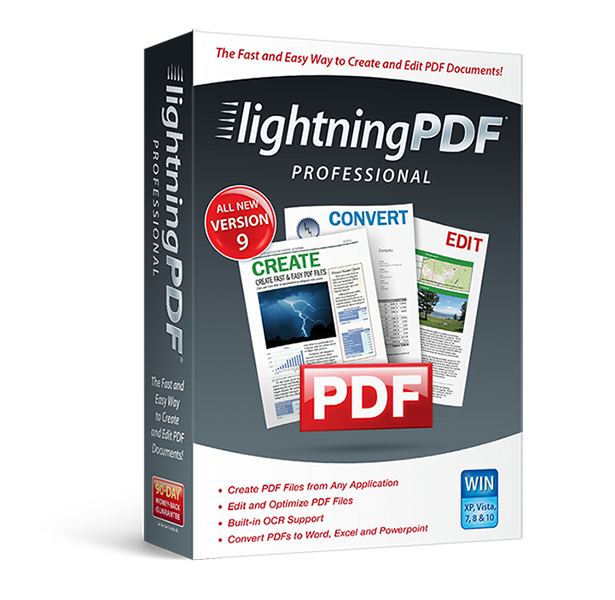 CREATE industry-standard PDF files from text files, images and web pages
EDIT PDF text, images and watermark with full editing features
COMMENT using annotation and mark up tools
PASSWORD PROTECT and sign with digital signatures
FILL OUT and customize PDF forms from templates
Lightning PDF Professional 9 is more powerful and easier-to-use than ever with new features innovations that include…
NEW! New user interface – now even easier to use
NEW! Leading-edge OCR digitizes text in image-based PDF files
NEW! Multi-language support-English, Korean, Italian, French, German, Russian, Czech, Turkish, Portuguese, Polish, Romanian, Ukrainian, Japanese, Greek, Croatian, Bulgarian and many more.
NEW! Convert PDF to Word, Excel, PowerPoint, image formats (jpg, png, tiff, gif and bmp) and text formats (EPUB, HTML, TXT, RTF)
Buy Download
60 Day Money Back Guarantee
Secure Online Ordering.
Our Systems are tested daily by McAfee and secured by SSL

Lightning PDF Professional 9 is an all-in-1 PDF solution for creating industry-standard PDF files, editing PDF text and images, converting PDFs to Office documents, adding comments plus editing and filling in PDF forms. You can also sign PDF documents with certificated digital signatures, protect PDF files with passwords and use OCR technology to make text in image-based PDF files searchable and editable. It's a must-have program for anyone who works with PDF files.
Optimized for Windows 10

New -

All new user interface - even easier to use

Enhanced -

PDF rendering, editing and converting




New -

Integrated OCR support

New -

Annotation tools including area highlight, typewriter, squiggly line and more


New -

Compression options optimize files sizes

New -

Paragraph recognition and support for superscript and subscript


New -

Screen capture tool


New -

Support for Bates number for legal and medical documents
Create Industry Standard PDFs
Create PDFs from a variety of programs including Microsoft Word, Excel and PowerPoint. Basically, if you can open it on your computer, you can make it a PDF!
Combine different types of files into a single PDF.
All documents you create will be 100% accessible by Adobe Reader, Adobe Acrobat and other PDF readers.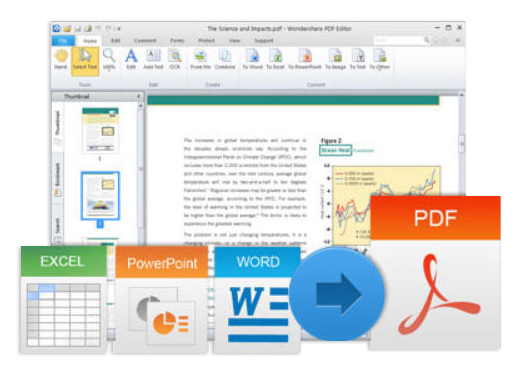 Edit Text, Images & Watermarks
Add, revise and delete text in 2 easy steps. Adjust font, size, color and more.
Insert, crop and delete images accurately and at high speed. Even adjust image height and width.
Easily add, delete and extract pages to create new, informative PDF documents--no need to start from scratch.
Insert, delete and update watermarks across multiple pages. 
Compress PDFs to a suitable size for uploading to the Internet, attaching in emails or for printing. Use preconfigured settings or set the settings yourself.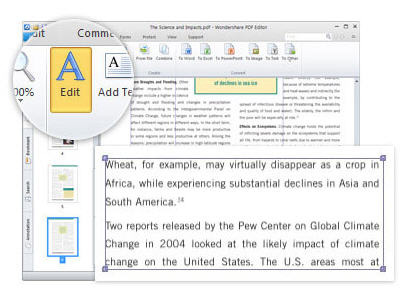 Convert to Word/Excel
Convert a PDF to a Microsoft Word document so you can easily manipulate PDF content without needing to type it out. Your converted Word Document will look the same as the original PDF, retaining all formatting.
Manipulate any data anywhere. Extract PDF tables to Microsoft Excel spreadsheets for further analysis or calculation while preserving the original data and layout.
Eliminate risk of editing by others or easily share your image online by converting PDF files to standard image formats, including .jpg, .png, .tiff, .gif and .bmp.
Save time and work efficiently with batch editing.
Review, Annotate, Stamp & Sign
Sticky note, text box, text highlighters, freehand drawing tools and all kinds of shapes are available for providing comments and feedback. Then stamp it "Revised", "Reviewed", "Received", "Approved" or  "Confidential.  You can even sign it using your own digital signature. 
Collaborate with colleagues regardless of their software. Comments made with Lightning PDF Pro are viewable in Adobe Reader and Acrobat and other popular PDF readers.

Outstanding OCR Technology
Make image-based PDF text searchable while retaining the document's appearance.
After OCR, a scanned, image-based PDF document is digitized to become an editable file. Insert, delete, and edit text, images and more.
Work with scanned PDF text in almost any language, including: English, Korean, Italian, French, German, Russian, Czech, Turkish, Portuguese, Polish, Romanian, Ukrainian, Japanese, Greek, Croatian and many more.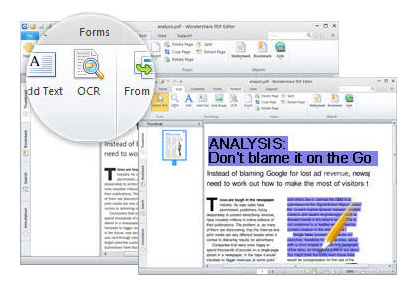 Fill In & Customize Forms
Customize and edit PDF forms from a variety of templates. No need to start from scratch.
Fill and save almost any type of static PDF form found online. By default, when you open a PDF form, all the interactive form fields will be highlighted for you to type and fill out.
Insert text fields, buttons, checkboxes, radio buttons, list boxes or dropdown lists. 
Import data to a PDF form to reduce input errors and speed up workflow. Export data from PDF forms to FDF (.fdf) files for distribution and reporting.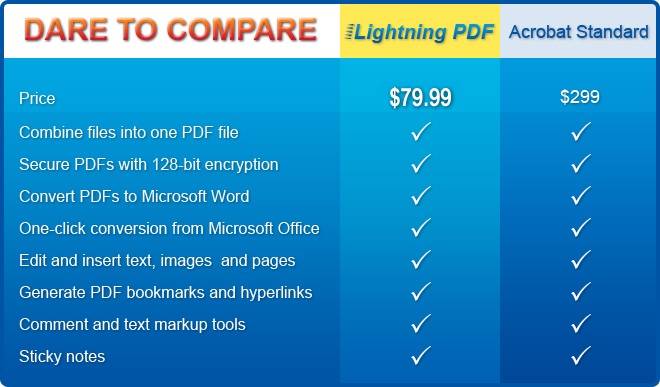 Windows XP, Vista (32-bit or 64-bit), 7 (32-bit or 64-bit), 8 or 10
1 Ghz Processor
512 MB RAM
500 MB free hard disc space